Every now and then I do something where I catch myself and go, "… did I really just do that?" It's usually because I can't decide if I'm amazing or disgusting. (In my defense, there's sometimes a really thin line between these states. Also, I'm not very bright.)
Before the Internet, I had to just wonder in silence, or call a friend. But now I have all of YOU! Ready to tell me the TRUTH, and scold me if necessary. So naturally just now I did this thing and was all, "Oh yes, I must tell the world about it immediately so that I can find out how to properly judge my own actions." Woooooo!
So the best part here is that I just reread this intro and I'm now envisioning readers being all, "What? WHAT DID YOU DO? Did you bring home roadkill? Are you snacking on ants? HOW CRINGEWORTHY ARE YOU RIGHT NOW??" This is sort of like that letter that's been going around for years where the college girl writes to her parents to let them know that she's hooked on drugs, living with a convicted felon, knocked up, and a bunch of other stuff. And then at the end she's all, "Just kidding! But I did get a C in a class. No biggie, right?" This is going to be sort of like that. I hope.
Okay. Here's our compost pile:
Basically it's just a chicken-wire-bound square where we dump stuff, and the chicken-wire is because we have tons of deer and apparently we don't want them eating it…? I'm not sure. Anyway, we have woods, the compost pile is back by the woods, and it's not exactly rocket science. We throw plant food scraps and rotten produce and egg shells and coffee grounds out there, and sometimes leaves and grass clippings, and if we were really the upstanding hippies I wish we were, we'd go out there and turn it all over with a pitchfork on a regular basis to make it all happy and turn into nutritious soil faster. But the thing is, we're lazy. Also, Mother Nature doesn't pitchfork-turn the earth and yet decomposition still happens, and so our compost turns into soil all on its own, albeit kind of slowly. Finally, I like to blame our laziness and my "whatever, circle of life" philosophy on the chicken-wire, really, because getting in there to DO anything is kind of a pain in the butt.
About a month ago, Otto came inside from emptying the compost bucket and remarked, "Something is growing out in the compost."
In my head, I responded, "OH MY GOD IS IT A DEMON BABY??" It seemed like that could be kind of interesting, you know? But in my out-loud voice I just asked him what he thought it was. He said he wasn't sure.
I promptly forgot about it, no doubt because I saw something shiny that was more interesting than a random something growing in a pile of rotting stems and eggshells.
A couple of weeks ago I was emptying the compost and came back inside and said, "Hey, there's something growing in the compost!" Otto looked at me like I was a lovable but mentally-impaired puppy. Then he gently reminded me that he'd already told me about that. "Well, yeah, I know," I said, remembering that he had, "But I know what it is!"
I had a vague memory of visiting Kira one time, years ago, and during meal prep I'd chucked an avocado pit into her compost bucket. Poor Kira just about tripped over me in her rush to remove it and explain that she never, EVER puts anything that might actually GROW into her compost. I, of course, totally respect her life choices and wasted no time in razzing her about her concern for precious seeds and the fact that they might accidentally root, all while pointing out that we put seeds and pits in our compost ALL THE TIME and nothing EVER grows there.
Karma! It's what's for dinner. LITERALLY. [Not the new, stupid definition of literally. The old, actual-sense-making definition.]
So the compost, you see…
… it's just that it's been so long since we turned it, I guess…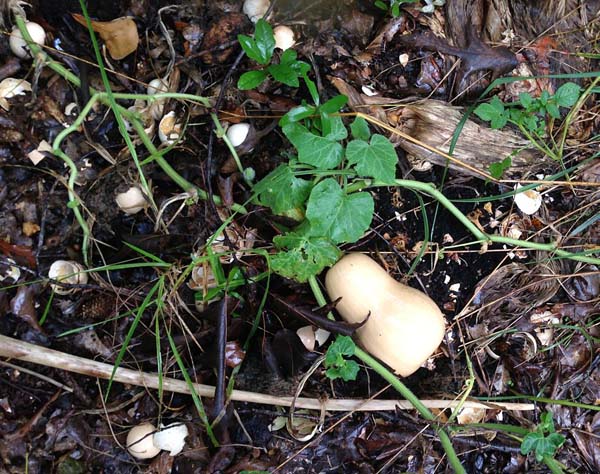 … that it went and grew a butternut squash.
Butternut squash was not a thing I used to buy, at least it wasn't until we went to Arizona and discovered that Uncle Bobby's Bisotto is Chickadee's favorite dish in the whole wide world, world without end, amen. Now I make this roasted squash risotto on a regular basis, which means I scrape and peel butternut squashes and toss the entrails in the compost, and have been doing so for a couple of years. This is the first time we somehow grew our own out there in the compost, though.
Well, we're having risotto tonight. [Sidebar: I would happily eat risotto studded with cardboard and seasoned with stale Mrs. Dash. I have tried—and failed—many times to convince The Picky Vegetarian that risotto can be made with OTHER THINGS. She's not buying it. Risotto must have roasted butternut squash and saffron, end of story. That's fabulous, because the only seasoning more expensive than good saffron is… cocaine, probably.] When I went grocery shopping last weekend, forgetting nearly everything I actually needed, I DID remember to get a squash for it, but (you knew there was a "but") it's kind of small and ugly.
Listen, I was emptying the compost this morning and I thought, "Why not?" Readers, I picked the compost squash.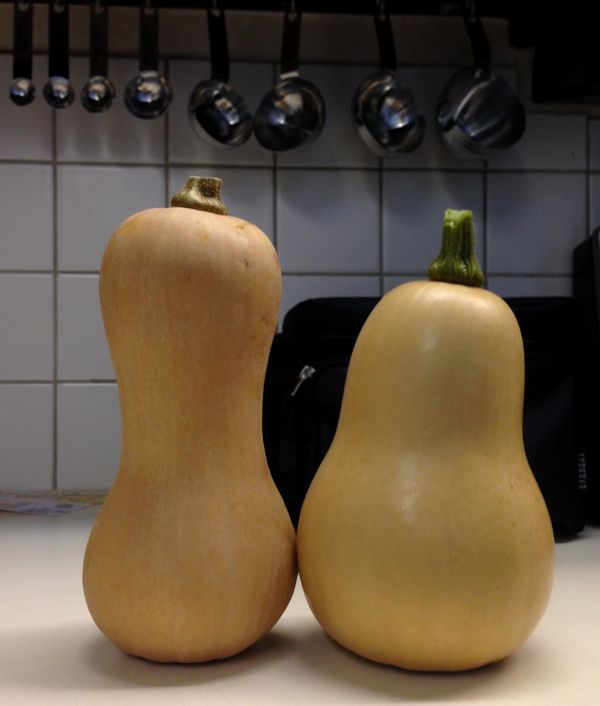 Monkey saw me taking the above picture and said, "Oh hey, did you finally decide to go get the squash out of the garbage?"
"The COMPOST," I corrected him. "We do not eat garbage. But sometimes we eat compost. I guess."
"Which one was from here? The one on the right?" I nodded. "That makes sense," he mused, "because that one looks a lot happier, and it was growing in a nice bed of nutritious scraps. I bet it'll taste better than the other one."
That kid has a future in PR.
Judge away, Internet. We're having compost risotto for dinner.