I'm doing an experiment this summer, though saying it like that makes it sound like I'm being all official and science-y, when in reality I am just trying to embrace my inner sloth. Here it is: I'm trying not to work on the weekends. WEIRD, RIGHT?? I tend to suffer from a common affliction called "freelance creep;" sure, I sleep a little later on the weekends, but I find myself using those weekend days to catch up on things I somehow didn't finish during the week. It sounds innocuous, but then I find myself sitting at the computer for hours and I hear that just walking away from work for a day or two at a time is healthy or something. So I've been taking the weekends off and I'm sure my productivity is down (minus) but overall my give-a-crap is up (plus!) so I'm calling it a win.
This means I get up on Monday morning feeling vaguely hungover. It's not alcohol, it's all that FREEDOM. An entire two days filled with WHATEVER. Crazy, man. Fortunately, this gives me all sorts of time to think about STUFF and THINGS and then I can come back and share all of those revelations with you. I know, you're thrilled. Try to contain your excitement. Or at least save it for the weekend when you're not supposed to be working. (You're welcome!)
Thoughts about owning your own pool: For those who've asked, why YES, the pool is still leaking. The good news is that we know where the leak is and it's been partially addressed so it's not leaking as badly as it was, initially, but that of course leaves the bad news, which is that it's still leaking. We are "being patient" with the pool company but I am about all out of patience. In the meantime, I think Otto has come to believe that owning a pool is somewhere around the fifth circle of hell, and I can't REALLY disagree, but here's the thing: Having your own pool is still kind of awesome (hassle aside).
1) You do not have to put everyone into the car and GO somewhere.
2) If one kid wants to swim and the other does not, OKAY!
3) You do not have to shave or otherwise feel self-conscious because screw it, your family has seen you in mismatched pajamas and bedhead.
4) Ditto to worrying about an appropriate swimsuit. (I'm not sure I even know what an "appropriate swimsuit" for a woman of my age is, anymore. Which brings me to…
… Thoughts about swimsuits: I love the meme that's going around about "How to get a bikini body." (If you haven't seen it, it's not terribly long, but basically the answer to how to get a bikini body is to get a bikini and put it on your body. The end.) I really don't care what anyone wants to wear and am not interested in judging anyone else—save for the fervent wish that people would at least wear things which fit them properly, because wearing something too small doesn't make you look smaller, it makes you look like an unfortunate sausage—but I do wish that women's swimsuits were a little more practical. I have a hard time finding a suit for myself which will not leave giant tan lines but can also be used as, I don't know, A SWIMSUIT (meaning I can swim in it without it falling off).
Worse still, finding an appropriate swimsuit for a skinny teenager is a whole 'nother level of crazy. Listen, if you, your teen, WHOEVER, feel(s) comfortable wearing a garment held together by strings, more power to you. Personally, I prefer that my ladies are contained in a way which cannot be undone with a flick of the wrist, but different strokes, etc. Again, there needs to be a middle ground between high-necked Speedo racing suits and tiny patches of material held together with dental floss.
We've both had some swimsuit success with Lands' End—and that's an affiliate link because I have one, but I purchased our suits with my own money and truly love 'em—but overall the choices in stores are frustrating.
Thoughts about sunblock: So those spray sunblocks are really convenient, but they're filled with all sorts of nasty, hormone-disrupting chemicals that make you grow extra arms (allegedly). After years of dealing with Chickadee's sensitive skin (which is still sensitive, but we are doing way better on the mysterious rash front this year, HOORAY) I have tried really hard to stick to physical barrier, gloopy sunscreens. They are, of course, a total pain in the ass and everyone hates them and WHY WHY WHYYYYYYYY CAN'T WE JUST DO THE SPRAY MOM GEEZ?!? Apparently my solution to this problem so far this season is to not buy any sunblock at all because I am a terrible, lazy mother. We have been swimming late in the day (mostly) and wearing rashguards (Monkey).
This of course means that somehow on Saturday we were in the pool for hours during the day and the only person who ended up completely fried was ME. That's called karma, boys and girls. On my shopping list for today: SUNBLOCK, DAMNIT.
Thoughts about dogs: We are dogsitting Kaiser again (you remember Kaiser) and there has been a stunning breakthrough in Socially Stunted Dogdom! Kaiser and Licorice are actually playing with each other, this visit. It usually only happens for about 10 minutes each day, and generally right before bedtime, but the two of them will start running around and barking and leaping and actually interacting in a way other than let-me-sniff-your-butthole-again. It's very exciting. The children are thrilled. It's brought me back to the whole "maybe we should get a second dog" thing, but of course that's not going to happen.
On the other hand, if I campaign really hard for a second dog, maybe Otto will let me get a couple of chickens, as a lesser evil…? Maybe? (Just kidding, honey!) (Totally not kidding at all.)
Thoughts about summer school: Chickadee is supposed to be taking a math class this summer, online. (Totally her choice as part of her plan for nerdtastic world domination.) We paid for the class and got her registered. It said in fifteen different places that the course wouldn't open until today. She logged on first thing this morning and it demanded that she complete a course orientation, after which it said her class could be accessed within 24 hours. Because this is an accelerated summer course, not being able to get in today means she'll be a day behind, and that one day = approximately one week's worth of work. Ummmm. Fortunately there's absolutely no way to contact anyone who has anything to do with the class to get them to let her in, so THAT's fabulous.
I had really hoped she would be willing to just kind of chill out this summer and relax, anyway, but here we are with a Major School Crisis three hours into the summer session. YAY! Stand by for tales of how Math Is Stupid and Summer School Sucks and I Am The Meanest Mother Ever (for… ummm… allowing her to torture herself this way).
Thoughts about my vegetable garden: Every summer I'm all GROWING MY OWN VEGETABLES IS SUCH A SAVINGS and every single summer as I'm buying more supplies or begging Otto to build more boxes or design me a framework for suspending more plants I realize I am a complete and total dumbass. I doubt that growing my own vegetables is cheaper. It is, however, fun and happy-making, most of the time. I mean, when I'm not being eaten by ants or weeding a bed I just weeded and MY GOD WHERE DID ALL OF THESE WEEDS COME FROM?
All of my tomato plants are now as high as an elephant's eye (if I was an elephant…), so this weekend Otto built a frame above one of the boxes and I was about to string up the plants which were falling down, like so: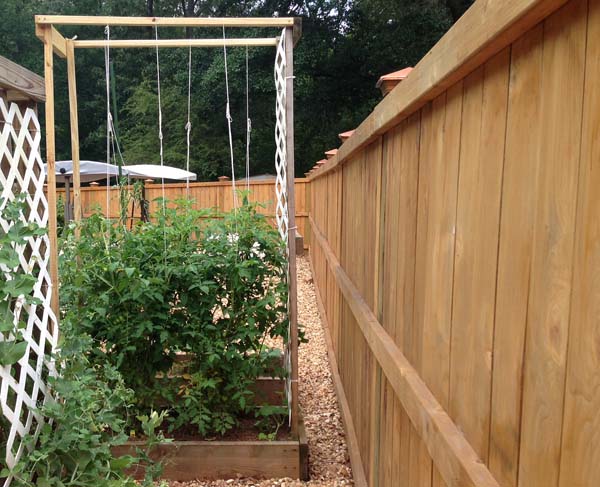 I know, it doesn't look like much, but those plants are loaded down with about a zillion still-green tomatoes, and it will be The Season Of Perpetual Tomato Sauce before I know it (I hope).
Thoughts about weekend television: I know the weekend is over when Otto and I look at each other during the final credits of Mad Men and say to each other, "Wait, what just happened?" I can't stop watching this show, and yet I think most of the time I have no idea what's happening AND I'm not even sure I like it any more. Is this what it's like to do drugs??
Bonus: If you're a Mad Men fan and you haven't seen these Mad Men recaps as if the show took place on Facebook, I hope you didn't have anything else you needed to do today.
Thoughts about groceries: Less than a week ago I spent around $200 on groceries, including two gallons of milk which have mysteriously disappeared. Both of my children resemble strands of vermicelli and Otto and I don't eat that much so WHO IS EATING ALL THIS FOOD? And why doesn't anyone go to the store and buy some more?
I just told the dogs to go to Publix but they're ignoring me. Ingrates.