So I think I mentioned that I'm doing The Vagina Monologues again, this year. (Do you live in northeast Georgia? You should totally come see it next week!) I love everything about being in this show. EVERYTHING. I love being in a show, period. I love being surrounded by a group of kick-ass women. I love raising money for a worthy cause. I love knowing we're raising awareness. I love the way Monkey's face contorts when he references, "That… SHOW… you're in." (One day I started reciting my lines in the car and he said, "What the HECK, Mom? YOU ARE INAPPROPRIATE.")
Basically, it's all good. I think Otto particularly enjoys that for a couple of months I am leaving the house and interacting with other people on a regular basis. I'm not saying that I'm not completely adorable just as I am when I interact with just my computer and my child's school for weeks on end, I'm just saying that he has an easier time peeling me off his leg when he gets home when I have to leave for rehearsal.
And of course I consider myself a feminist year-round, but it's OH SO EASY to forget about all of the things out there that are Not Okay when you kind of don't spent a lot of time out in the world. Then I start with the play and get all GRRRR! RESPECT THE VAGINA! all over again while these issues are front and center in my brain.
Now, mind you, this is SO SO MINOR compared to what's happening to women worldwide, I feel a little silly even bringing it up. In the Atrocities Against Women category, I'm not sure this even rates. But I bring it up because 1) Y'know, the play, and 2) my darling husband—whom I would consider a feminist, too—and I had a looooong conversation about Audi's Super Bowl commercial because he kept coming back to "but I thought it was a funny commercial." And I would say things like, "But it made it seem like just walking up and grabbing a girl and kissing her is brave rather than over the line." And Otto, good-hearted man that he is, kept constructing scenarios where it wasn't SO bad ("Maybe they're dating and had a fight and he wants her back!"), and I kept saying "THIS IS EXACTLY HOW THAT COMMERCIAL HAPPENED. Because white middle-class men in America think it's okay, or not so bad, because you do not understand how engrained this message is in your psyche that women are objects who exist for men's pleasure."
To be clear, Otto doesn't think that. I mean, he doesn't THINK he thinks that. I believe that most men really have no idea how much they've internalized this societal belief that sure, men and women are equal, mostly, except for all of the subtle ways in which they've been taught that we're not.
So that brings us to the other day. I picked Monkey up from Hippie School and then we swung by the eyeglasses place, because my new computer glasses had arrived, and I needed to pick them up. Monkey and I walked in, waited our turn, and then the nice guy who works there went and retrieved my specs.
As I sat there at the little table, trying them on, looking in the mirror, and getting them adjusted, I said, "Oh, hey. Can you tell me how much it is for just lenses?" The optician seemed a little confused so I added, "Remember I got new sunglasses here a couple of years ago? But now I've just gotten the new prescription, and the new distance glasses and computer glasses, and I'd kind of like to update my sunglasses but I don't need new frames."
He nodded and poked a few keys at his computer and told me new lenses for my sunglasses would be $220. [Side note: JUST THE LENSES. $220. Apparently "polarized" at this place means "platinum-coated."]
I laughed—OH HOW I LAUGHED—and said, "Well hey, this prescription is pretty close! Nevermind! I think I'll just buy some new $10 sunglasses off the Internet!"
He finished adjusting my glasses and handed them back and smiled. "Just tell your husband you need them," he said, with a conspiratorial grin.
I blinked. Rapidly. This is what I do in lieu of punching people when I think they're being unbelievable. And then because I'm smooth, I said, "… what?"
He smiled even wider, said, "Tell your husband you really NEED new lenses. He'll take care of it."
I blinked some more. Then I turned to Monkey, who was standing behind my chair, and smiled at him as sweetly as I could manage. "Honey, are you listening to this?" He nodded. "This is why feminism exists and is still necessary in 2013, son. Because this nice gentleman right here just suggested that I need my husband's permission to spend money."
"Well that's not true," said Monkey, clearly offended on my behalf.
The optician reddened. "No!" he said. "That's not what I meant!" Monkey and I turned to him, eager for his explanation. I continued smiling. (I've learned from living in the south that killing someone with kindness can be VERY satisfying.) "I just… I meant… that if you told him you WANTED them, he'd probably buy them for you!"
Monkey and I exchanged a look. I thought about telling the optician that I actually work for a living (imagine!) and actually—incredible, I know!—many women make more money than their spouses. Also, lots of women aren't married. Or are (GASP!) married to other women. I just had no idea where to even start, particularly because I've been to this place for years and have always thought this guy was nice. Also, I happen to know he has daughters. Ugh.
In the end, I settled for leaning across the table and saying, "If I was going to con my husband into spending $220 on me for some reason, it wouldn't be for lenses. But thanks for the suggestion."
My new glasses are fabulous (know how you don't realize exactly how much trouble you were having seeing until you get your updated prescription and are all "Hey, I CAN SEE!"?), but I remain bugged by my experience there. The part that bugs me the most is that a huge part of my brain insists that it was "no big deal." And it isn't. Except that it is.
So I will get up on stage and talk about my vagina. I will make my son listen to lines from the show and when he squirms I will tell him that it is NOT gross or inappropriate and that until women are truly equal these are important things to talk about. And I will point out to him that as uncomfortable as that interaction at the eye place made me, it's still small potatoes compared to what women are subjected to daily in other countries, or even here in America when, say, a group of high schoolers convince themselves that rape isn't really rape if the girl is drunk or a slut.
I will also laugh at rehearsal until I cry because it's not all BAH! MEN ARE JERKS! RISE UP! but it's a lot about women being themselves and joyful and damn if we aren't a fun bunch. Last night in the middle of something rather serious someone whispered, "ERMAGHERD!" and I promised to make her a picture. And I did: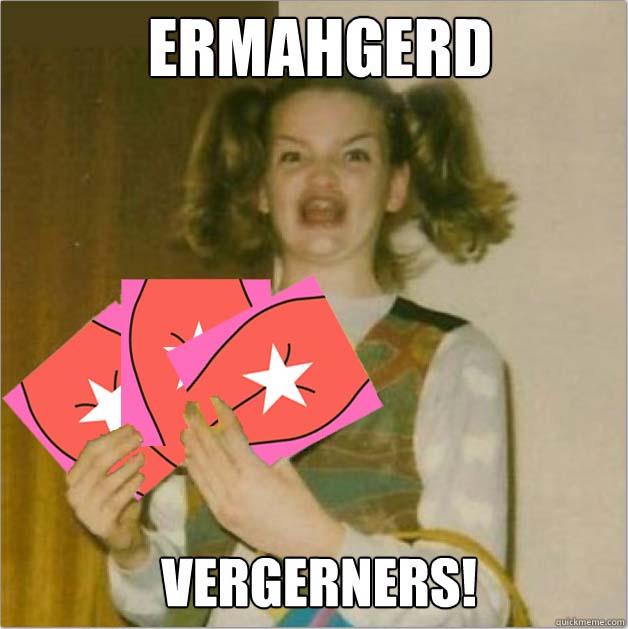 So boo, patriarchy, but yay for women knowing how to laugh, too.