I knew, but didn't really know, that the holidays would be hard this year. I knew intellectually, but didn't really grok how it would feel. It felt wrong to have Thanksgiving without Chickie—as thankful as I am for so many other things—and although we usually do the tree and the decorations the weekend after Thanksgiving, I didn't say anything, and neither did Otto or Monkey, so we just let it go. There's plenty of time. She'll be home in a few weeks, for a bit, and we'll try to figure out how to cram in all of the family togetherness we need around this year's unprecedented weirdness.
So we had a nice meal with friends and have been doing Leftoverpalozza ever since. Yesterday was the first batch of soup, and the moving-of-all-leftovers-from-giant-containers-to-slightly-smaller-containers, and this morning I lovingly packed turkey sandwiches for the boys to take in their lunch. ("Turkey again?" YOU WILL SHUT UP AND EAT IT AND YOU'LL LIKE IT.) Some things are the same as always, even with other things so very different.
But I am trying to get into the Holiday Spirit.
Monkey helped, totally by accident.
See, when we visited the Titanic exhibit, we of course bought cheesy souvenirs before we came home. I, naturally, was drawn to the fridge magnets, because our refrigerator always looks like some sort of demented Chicken Soup For The Twisted Yet Somewhat Repentant Soul book threw up on it, and why not add an ill-fated ship?
But the problem was, the magnet was cheap, and would never stay upright. Observe: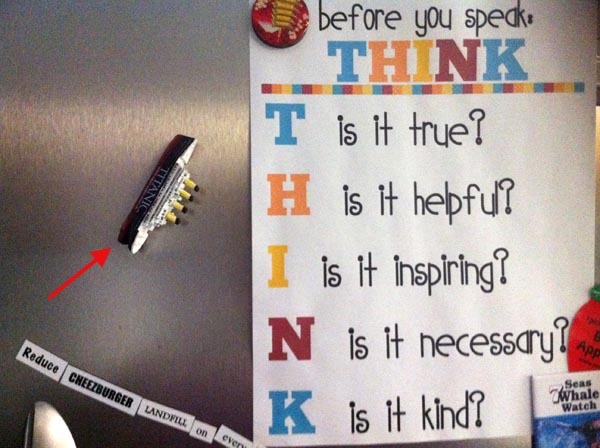 Otto suggested maybe this was by design; perhaps the WHOLE POINT was that the Titanic couldn't stay afloat? I suspect shoddy overseas manufacturing, myself, but whatever. Maybe he was right.
But this magnet was DEEPLY OFFENSIVE to Monkey, because Monkey is generally a glass-mostly-full sort, and he wanted the Titanic to stay up. On the other hand, he's still my child, so thanks to some LOLspeak magnets of ours, he rigged the perfect solution: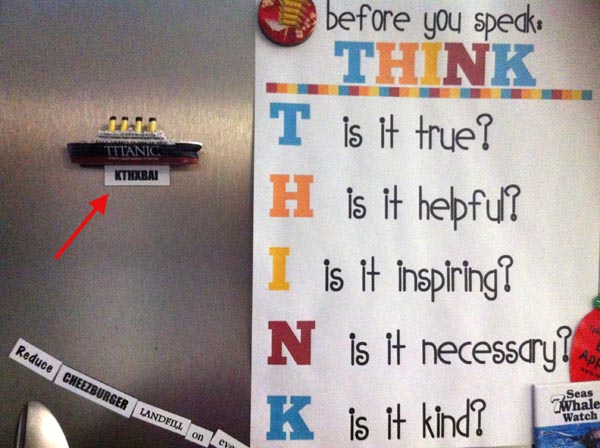 His calm (and humorous) acceptance of the inevitable has proven to by my own personal holiday-time revelation. I think… I think my heart grows three sizes every time I open the fridge, now.