We talked for close to an hour, last night, and then after we'd said our goodbyes and I had retired to the couch with Otto, my phone dinged. It was a picture of Chickadee in her Halloween getup, with the comment, "Looky mommy! I'm fantastical." I complimented her on the ensemble, and a minute later received: "u should put a pumpkin on my head and put me on ur blog." I said I would, but apparently I was not speedy enough. An hour later, another text: "Look at the pics I made for u!"
Because I am a kind and loving mama, I responded, "GO TO BED, YOU HAVE SCHOOL TOMORROW. (Love you.)" She's so lucky to have me.
Anyway, based on her Photoshop skills, I think she's about ready to take over the blog for me. All of those years in the Witness Protection Program have served her well.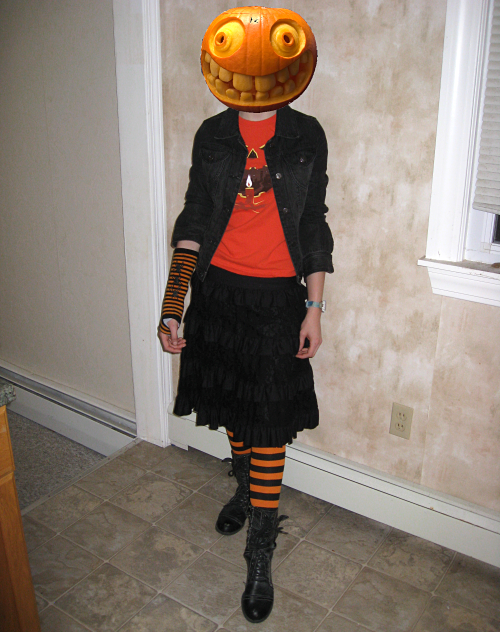 [In the interest of equal time: Hallelujah, I am finally the mother of children too old to dress up or go out trick-or-treating this year, and as a nearly-teenaged nod to the holiday, Monkey opted for this shirt this morning. Halloween, done.]