There have been a few requests to see my actual zombie hand, though I realize this is a delicate matter for some. The day I got my new splint (which meant the bandages got cut off and I got to see it for the first time) I was super-jazzed to show it to Monkey and Mario when they got home from school that afternoon. To my dismay, when I removed the splint, Mario said, "COOOOL!" at the same time that Monkey gagged, turned away, and yelled, "PUT IT BACK ON, THAT'S DISGUSTING!" So, you know… your tolerance may vary.
Here, I'll make it a link for those who dare to click: This was my hand this morning while I waited for the surgeon to come poke me and then take out my stitches. (Don't say I didn't warn you.) The stitches are out, now, and the good doc says everything looks great. Given how black and blue I am, I wonder if he has a different definition of that word than I do, but whatever. (I also told him I thought being bionic would be more exciting, somehow, and he laughed and said I probably thought it would hurt less, too. Come to think of it, he's kind of a jerk.)
I've received some lovely, kind gifts while convalescing. Most of them involve chocolate, which is awesome. But this latest one is clearly the best.
The story Otto told me was that he spent a good chunk of the time while I was in surgery chatting with his brother, Nearly Nickless, who was kind enough to express his concern about the whole situation even from 1,000+ miles away. Apparently Nickless shared with Otto that he felt moved to get me a little something to help me through this difficult time.
A box arrived in the mail. This note was on top: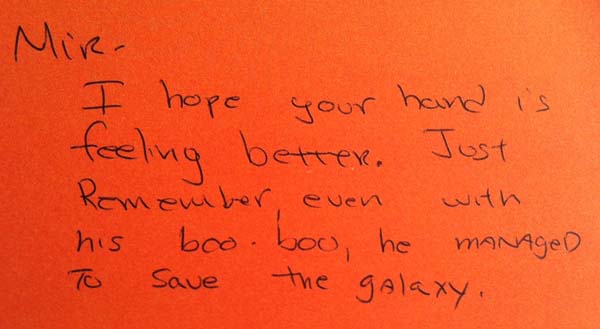 Oh, dear. Did he…? Yes. Yes, he did. This was wrapped in festive paper, below: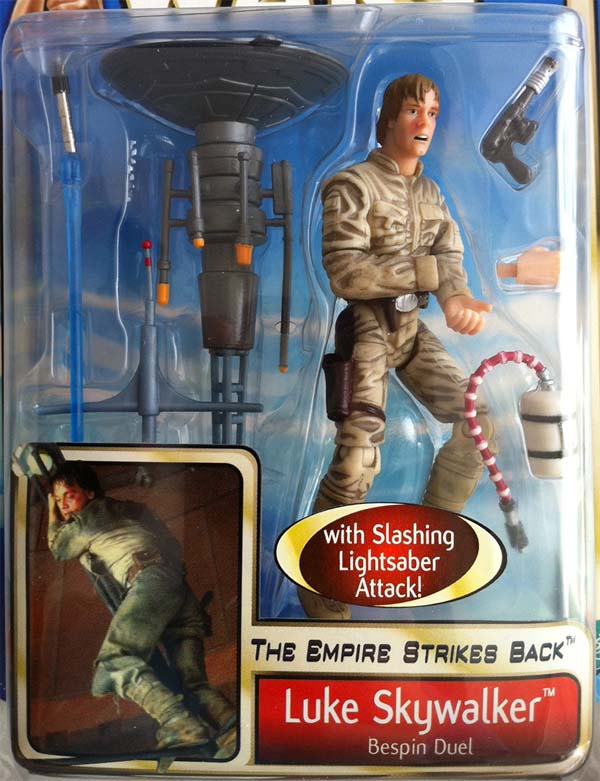 (Note that Luke just HAD to one-up me by losing his hand altogether. I can practically hear him asking me what the hell I'm whining about, with my pretty purple splint and attached hand and everything.)
Luke is now sitting on my desk, guarding my computer, reminding me that sometimes it only takes one hand to save the world. Thanks, Nickless. You really know how to cheer a gal up!!