My mother-in-law's funeral was lovely. I know people say that—"Oh, wasn't it nice!"—and it always seems weird to me because what exactly is nice about a body in a box? But it was the perfect mix of respectful and irreverent. I think she would've approved.
We flew home first thing on Friday morning, and drove straight from the airport to the hospital. Half an hour of paperwork later, Chickadee was free and clear. She hugged us and chatted on and on and bounced through most of the ride home. Once there, we sorted through a week's worth of mail while Chickie began digging around in her room for… I'm not sure what, really… until I reminded her that her friends were coming.
The mess was stuffed back into her dresser and closet, and we went to the grocery store to pick out a few gallons of ice cream. The bouncing continued. Back at home, pizzas were ordered, paper plates unearthed, and not too long after, the house was filled with the shrieks of teenage girls. Otto and I withdrew to the living room while the girls swarmed the porch, the kitchen, and then later, upstairs. We let them have their time. It was only when the girl who faithfully wrote to Chickie at the hospital was in the kitchen, alone, getting more ice cream, that I dared to sneak in and murmur to her, "Have as much as you want. In fact, you ever need ice cream this year? You come on over any time. I mean it. You are always welcome here."
When it was over, we cleaned up and I tried not to think about the fact that it may be a long time before that kind of chaos fills the house again. I tried not to think about anything except the fact that Chickadee seemed really happy, and that every one of her friends showed up and told her they will miss her. She showed me the cards and presents they'd brought her, marveling aloud at their generosity. Eventually I coaxed her into bed.
* * * * *
While we were gone for Otto's mom's funeral, my dear Kira—my comrade-in-arms, my soul-sister—sent us a box. Kira's boys raise bees, and every summer for the last however many years, Kira has sent me some of their honey, usually for my birthday. And then partway through the year I usually buy some more from them when we run out. This year Ki didn't send any on my birthday, and I knew it had been a rough year for honey between the fires and the weather out in Colorado, so I didn't say anything, even though the kids (Chickie especially) absolutely LOVE honey and think it's so cool that we know exactly where it comes from. But we came back home to a box, and the box… was oozing. I knew even before I opened it.
The card explained that it had been such a bad year for honey, the boys had none extra to sell. But, Kira added, there is always enough honey for family. Enclosed are two jars, she said, one for you to keep at home, and one for Chickadee to take to her dad's. I opened it outside, carefully handling the sticky card; one of the jars was broken.
I extracted the intact jar and brought it inside to wash it off, while Chickie watched. "You should keep that one here," she said. "It's okay, I don't need it."
I dried off the jar and tucked it in with her things. "Kira sent it for you," I said. "You eat more honey than the rest of us combined. Let it be a reminder of how much you are loved, and how family doesn't necessarily have to be right there." She nodded, maybe even smiled a little.
* * * * *
On Saturday we ran all of the last-minute errands. Her dad has a reputation for pretty much buying her whatever she wants, and years ago I decided it was fruitless to fight it and just let him be the Supplier Of All Cool Things. It saves me money, after all. But the idea of her heading into a new school, I don't know, I felt like maybe it would be easier to walk in there in a pair of sneakers we bought here at home. So she picked out some Converses I'd refused to buy her before ("You have a perfectly good pair of sneakers already!") and I even made a separate stop at the place that carries the rainbow shoelaces so that they'd be perfect.
I sat on the floor of her room and laced them up for her while she sorted through the last of her stuff. Then I took the tags off the rest of her new things and made her promise to send me a picture of her first-day-of-school outfit, saying it was because her new jeans were so cute I wanted to see them, and biting back the urge to say "because it's the first time I won't be there."
She didn't have the first bout of anxiety until Saturday night, and even though I knew it was coming, it was still a Herculean effort to stay calm. Because she realized she'd made a horrible mistake! She didn't want to go! Couldn't she stay here with us, WHERE SHE BELONGS?
I hugged her and wiped her tears and told her that she is stronger than she knows. That she's ready for this; that this is a decision she needs to follow through on in order to get to a better place. That she will never be happy here until she fully explores there. (Her: "Noooooo! I will be happy here, I promise!") I told her I would never let her go unless I knew it would be okay. I told her I will miss her terribly but we will be okay, and that this will always, ALWAYS be her home. We'll be waiting here for her.
We went through it all again the next day, of course. But by the time her dad pulled up and Monkey said, "No, Chickie, don't go!" she ruffled his hair and quipped, "Sorry, buddy, I already tried that. It doesn't work."
Everything she decided to take fit neatly into the back of her dad's CRV without even blocking the window. I am somewhat cheered by what she left behind; she says this is temporary, and the number of treasured objects still sitting in her room helps me to believe it. And June isn't that far away. "I'll be back with plenty of time to relax and unwind before band camp even starts," she said. Music to my ears.
Yesterday when she was really struggling, she sat down and wrote in her journal with great concentration for a while. Then she showed me what she'd written. An entire page dissecting the moment: I am sad because I am moving away from my mom. But I will be okay because I can use my coping mechanisms to help myself feel better. I will listen to music, journal, ask for a hug, distract myself with other activities. I am strong and I can do this. I am learning to become a more independent person. Four months ago this sort of overwhelming emotion would've ended with blood and bandages, and now she may be a little wobbly on her new foal legs, but she's standing. Processing. Not hurting herself. Doing positive self-talk and moving forward.
We smiled at each other over her journal. "You're okay," I said. "You're going to be fine." She nodded. We hugged, both of us terrified it's not true, but clinging to the hope that it is.
* * * * *
So my little baby bird has flown, and now all I can do is hope and pray that everything I did for her up until this point is enough to keep her aloft while she's gone.
Otto turned to me after she left. "This sucks," he said.
"Yep," I said. We have a way with words, no?
We are left with a half-empty room, lingering doubts, and the hope that June comes quickly and will return a stronger Chickadee back to our nest. I worried, privately, even when I was sure we were doing the "right" thing, that she would hate me. I could stand it if I had to, but I hoped I wouldn't have to.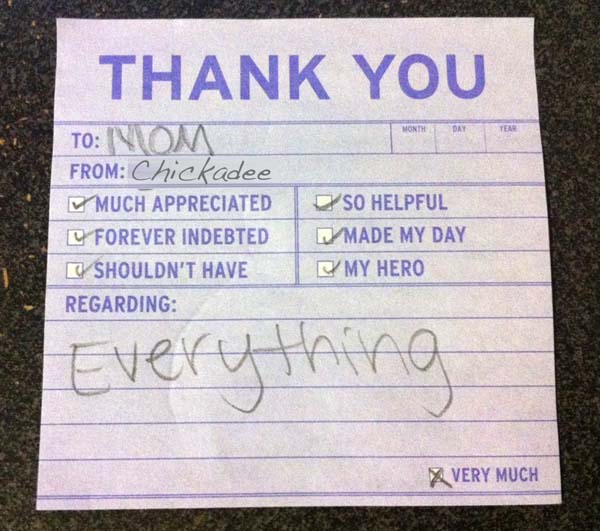 My heart's still breaking. But I think, maybe, it's gonna be okay.