Otto's car isn't salvageable, unless you count "costing as much money to fix it as the car is worth" as salvageable, which I do not.
Monkey is on day two of a Mysterious Fever, which today came with a bonus Mysterious Rash.
And yet… my folks have arrived, and my office currently houses Wave Two of the great tampon lemonade project, ready for delivery tomorrow.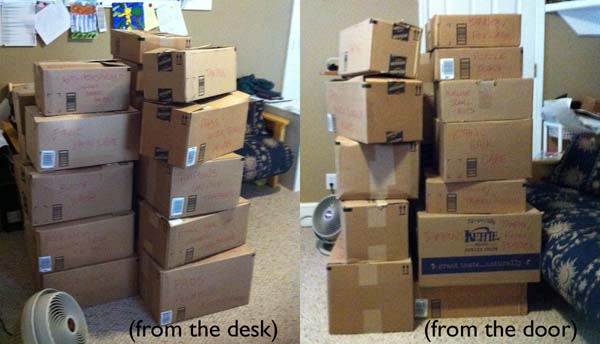 Twenty-four more boxes of goodies for the girls. Know what? It's better than a working car. [Bonus: My dad turned to Monkey this morning and said, "What do you think of all these donations, Monkey?" and even though he was laying on the couch being pitiful he said, "My mom collects tampons and IT'S CREEPY." So fever or no, he seems fine. Heh.]