Our long national nightmare known as the prolonged agony of Science Fair has come to a close for the year.
Not that I'm not a fan of Science Fair. I think it's great. I just think it's LONG. From the time the kids start their projects in… I think it's October?… until the final fair at the end of March is just… a lot of time for a type-A nerdling to worry about her project. Not that I'm naming any names. Not that there was a child threatening to head to the exhibit hall WITH HER PUKE BUCKET if she was still sick, or anything. AHEM.
So you may remember that the Regional Fair was a real nail-biter this year, but ultimately Chickie took home the big prize, and all was well. I figured this would give her some confidence, heading into the State Fair, but that's only because I forgot who I was dealing with. Because every new level of the Fair is an opportunity to FREAK OUT!
For the record, I was about 98% certain she would get a first place award at State. And this is not because I am the sort of parent who thinks my kid is better than everyone else, but because last year I was sure she WOULDN'T place, and she ended up getting second place, and her project this year was better (more intricate, more work, more difficult) by a factor of about ten. Plus, she won the top award for the region, so it seemed impossible that she'd go on and not get another award.
But. Chickadee was nervous. There were some really awesome projects in her category, plus my darling daughter possesses some definite Eeyore tendencies. She did an excellent job of whipping herself into a frothy lather of hopelessness before the awards yesterday, despite the fact that her judging interviews went well and several special award judges came to talk to her.
Let us pause for a moment and consider, however, the head judge for her category. This fine gentleman took it upon himself at the end of judging day to pull my daughter and another student aside to tell them that they were tied for first in their category, and he had to pick just one of them for the top prize, and he couldn't decide. He went on to tell them that he was going to go outside and flip a coin to decide.
Chickadee relayed this to me in an anguished phone call.
"Oh, honey, I'm SURE he was joking," I told her.
"Mom, he wasn't joking. He was TOTALLY SERIOUS."
For reference, judges aren't supposed to give any indication of ranking to the students prior to the award ceremony, so this guy was out of line whether he was serious about the coin toss or not. Also for reference, given that he felt okay telling this to the kids, I feel okay telling you that I think this judge is a giant douchebag for having said what he did.
Anyway, yesterday was the award ceremony, and it went ON AND ON AND ON because there are about a bajillion special awards they have to give out before they even get to the place awards. We say there for over an hour, having not heard a single special award go to anyone from Chickadee's school, and finally—as a parent sitting on the other side of Otto was literally dozing off—we heard them call Chickie's name.
Otto and I clapped and cheered and then we tried to figure out what she'd won. Parents don't get to sit with the kids, but through the miracle of modern texting, I was able to figure it out.
Me: What did you win? And why? :)
Her: The metric association award. Cuz I told them i used 3 cm of my finger in a liter of water. :P
Me: I can't stop laughing. Yay you!
Me: Is it just a certificate?
Her: And a ribbon. If I had a data plan, I could send you a picture.
Me: Haha you can show me later.
Me: YOU ARE SO METRIC!
Me: YOU ARE SEVERAL CUBIC METERS of awesome!
So… apparently Chickadee is totally the boss of metric units, moreso than the other 600 participants at the fair. She measured the CRAP out of those centimeters, milliliters, and… umm… other stuff. BOOYAH! And because she whipped those metrics into shape, she got this nice certificate and an extra ribbon: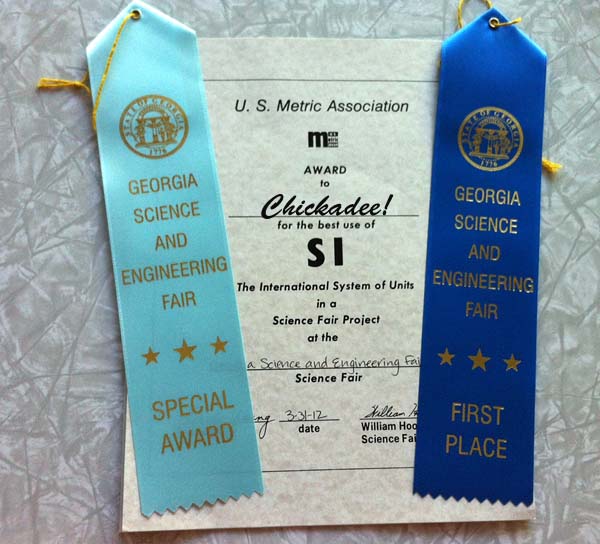 Oh, yeah… she won First Place, too. (But not Best In Category—apparently she lost the coin toss. THANKS, DOUCHEBAG JUDGE WITH THE BIG MOUTH.)
Naturally, it's her masterful use of metrics that has us the most proud. I'm thinking of buying her a shirt that says INCHES ARE FOR LOSERS. (Too much?)