The last few days have kind of beaten me down, which you wouldn't think would be possible, given that I keep (stupidly) thinking to myself, "Well, it's not like things can get any WORSE." HAHAHAHA. HA.
Chickadee just scored herself a sports medicine doc and some regular physical therapy, possibly because someone realized there was a doctor we hadn't seen/needed yet. But I have to say I do like the concrete nature of this particular problem. ("You have iliotibial band syndrome and that is fixed via rest, ice, anti-inflammatories, and physical therapy." It's such a nice change from "We don't really know what's wrong with you exactly or if this will help." Refreshing, really.)
And of course in the midst of this, she was gearing up for the final Reading Bowl competition today—State Championship, a.k.a. the end of the line in this particular event, or Bookworm Nirvana—and for some reason really not appreciating my jokes about how it was a good thing Reading Bowl doesn't require a lot of running. (Whatever. I thought I was hilarious.)
The team has team shirts (of course). For today's competition, the coach decreed that they must wear their shirts with their khaki uniform pants, which I can tell you none of the kids were too happy about. (Bad enough they have to wear uniforms to school, in their estimation… now they couldn't even wear jeans to competition? WOE.) The mostly-female team immediate set to scheming on how to make their outfits cooler.
The answer arrived as a surprise in the mail. A very dear reader whom I shall not name because she is, I think, a little shy in addition to being pretty and PRETTY AWESOME took it upon herself to send my kids some goodies a few weeks ago. Every single item in the box that arrived was pure awesome, but one particular item stole the show, and also solved the wardrobe dilemma: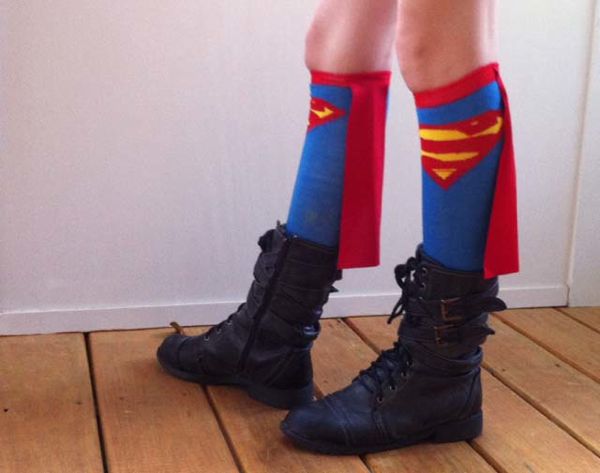 Team shirts and khaki pants? Nope. Team shirts, khaki skirts, awesome socks, and—if you happen to be my own particular supernerd—combat boots. Of course.
Aaaaaand… they won. That's going to make for a kick-ass picture in the paper, methinks.