Last night as I got ready for bed, Otto took Licorice outside for her last trip of the evening, then headed upstairs to put her in Chickadee's room. Before coming back down, he must've stopped in his office and checked his email.
"We have an email from Teresa*," he said. [*Teresa is not the Hippie School owner's name, but as I'm starting to think of her as our family's very own personal Mother Teresa, I thought it would make an apt blog name for her.]
"What does it say??" I asked, already fighting against a small, dark voice in the deepest corner of my brain that was only too happy to suggest that yes, on 10:00 p.m. the night before school starts, she's decided that Monkey will be too much of a handful, and she's very sorry, but would we mind very much just not showing up?
"Oh, you know," he said, "mostly that she's glad that Saturday happened and she'll see us tomorrow." He went off to brush his teeth. I went and grabbed my laptop to read it for myself.
Hi! Just thinking of Monkey tonight and hoping he isn't feeling butterflies. This might sound dumb, but I'm glad the incident happened on Sat – let's just get the worry (for him, maybe you all, not me!) that something might happen out of the way. It did! It will! (And I hope you could tell that no families were bothered…) We will deal, and learn and grow (and I mean all of us – he is going to firmly lodge himself in that part of my heart that gets tickled by the smartly quirky, I can already tell.) Things will be new and different – and might take some adjustment – but GOOD!
There was more, after that. But that was already all I needed. I sent her a quick note back, stopping just short of asking her to adopt me.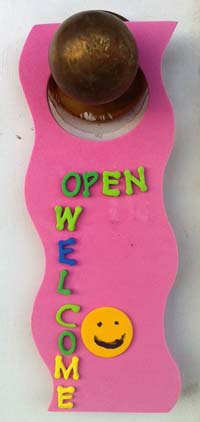 This morning Monkey bounced down the stairs, eager to get going, wanting to know what time it was and whether it was time to leave, not wanting to stand still while I recombed his hair for him (not that I don't really LOVE the homeless, blind person with only half a comb look, I assured him…), drinking four sips of smoothie and insisting he was full.
We took him out to the front step for a few pictures, and then we were off.
Ordinarily, we'll carpool and Otto will drive Monkey and Mario and Luigi (also not their real names!) (I've become oddly paranoid that naming all of my children's friends after animals is going to get me into trouble with their parents, so I've moved on to video game characters) in the morning. But today I took him, and he sat buried in a book in the backseat while I drove to what I hope so much will be a new chapter of his life.
As I turned into the parking lot and spied the now-familiar pink door tag, Monkey closed his book with a resounding thump. "We're here!" he said. "Hey! There's Mario! HI MARIO!" He was out of the car before I'd even taken the keys out of the ignition.
"Oh, hey Monkey," said Mario. The boys went inside. We moms smiled at each other and brought up the rear.
It's a new year, a new school, a whole new way of life for us, and hopefully—oh how I hope—a whole new start for Monkey.
But…
… he wore his old, comfortable shoes. That's okay. I suspect Hippie School is ready to embrace him exactly the way he is, grubby shoelaces and all.