So. Seven years ago, when I started blogging, Chickadee was but a precocious 6-year-old finishing kindergarten. She alternately delighted and infuriated me, and I worried about her (a lot).
Today she is a precocious 13-year-old, starting her last year of middle school. She alternately delights and infuriates me, and I still worry about her, but less than I used to. She's getting where she needs to go, even if that does mean she's snarly and grouchy and mostly unappreciative of the fact that I made her a special breakfast and packed her the lunch she requested. Instead of saying "I'm sorry" she texted me from the bus to complain that she was the first one on and it would be a long ride and IF ONLY I'd let her take her iPod with her she'd have something to do. (My response: "Oh well. If only you weren't so rotten.")
We butt heads. We laugh together until we can't breathe. I drive her crazy and embarrass her, and she takes me for granted and doesn't listen until I get mad. She'll be taller than me by the end of the school year, but I bet she'll still sit on my lap.
I can't believe she'll be in high school next year, but at the same time I know she'll be fine. She's getting to where she needs to be.
This is the first time in about a decade that she's started some form of out-of-the-house care or school without her brother. He'll be on his way to Hippie School in a couple of weeks, but while she carefully donned her new uniform clothes he was commenting on how awesome it is that he can just do math right at the table! In his pajamas! Because how crazy is THAT? The full-body "first day" pictures Otto shot depict Chickadee carefully coiffed, with her tie just so, scrubbed and gleaming, with Monkey sitting beside her in his pajamas (with bedhead, to boot). Nice.
I feel like just the one pair of shoes seems a little lonely, but I guess that's befitting of her newly-adopted Emo/Goth/Manga-lover persona.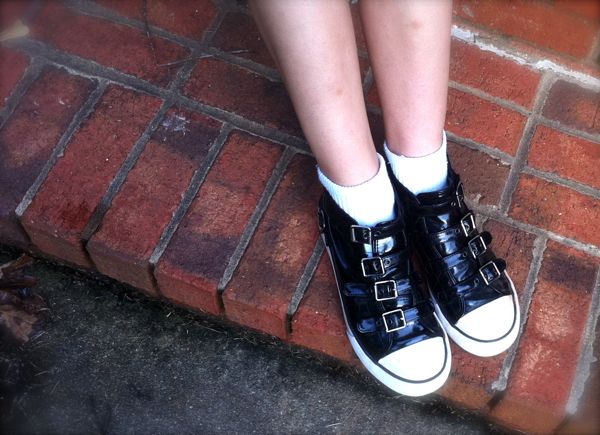 And so she's off, and it feels like everything is about to change.
Monkey suggested we bake some cookies today. "You know, for Chickie, to celebrate her first day back to school. I think that would be a really nice snack for her when she gets home, don't you, Mom?"
Some things won't be changing, I guess. And yes, we'll be making those cookies. I bet if I play my cards right, Chickadee might even let me pour her a glass of milk to go with 'em.