So Chickadee made it through band camp without incident. I'm not gonna lie, we were pleasantly surprised. It is HOT and GRUELING and there were plenty of texts about who'd passed out and how sick she felt and more than a little angst over the enormity of the task before her. [Hint: Someone spent all of last year as first chair in the band. Guess whose ego was not quite prepared to be last chair despite being 1) the youngest 2) the newest and 3) the only non-high-schooler in her section?]
Now we go to a regular rehearsal schedule and soon—weekly football games. Friday afternoon found Chickadee sporting a stylish farmer tan and the biggest smile we've seen in months. After early dismissal she'd gone out to lunch with her section and was basking in the glow of being treated as an equal by the older kids over pizza. "I think I've got it," she confided to me, a little bit proud and mostly amazed. "It got easier. It's hard but it's fun."
And so last night we headed over for the first demonstration of the season, to be followed by a giant picnic of band families. (Apparently the last adhesive required to fully cement the bandie extended family is hot dogs and ketchup.)
The field was closed, for some reason, so we assembled to watch the kids march in the adjacent parking lot. It was 98 degrees in the shade and even hotter on the edge of the blacktop. The director said a few words and then began: Their demonstration consisted of them just standing there, playing one piece, and then showing a few different marching drills (without music), and finally, they did a complete number (both music and formations). And there were a lot of kids and it was REALLY hot and yeah, it wasn't perfect. I saw a couple of spinning flags hit the ground. I saw some kids bump into each other.
But… on the whole? For only being together for a about a week? They were really, really good.
More than that, I saw Chickadee transformed. The same kid who whines about standing up straight, who trips over dust, who ignores 75% of what we say to her, was flawless. She stood proud and tall, never missed a cue, looked confident and at ease and marched in and out of formations like she'd been doing it her whole life. She was downright GRACEFUL. She looked right at home.
Afterward she ran to us, all smiles, asking how we'd liked it. All was happiness and light until I asked her to introduce me to the girls in her section, and then I got my regular kid back. That was met with rolling eyes and, "God, Mom, that's just creepy," and other protestations that made it clear that any attempt to meet any of the kids who are her new BFFs would forever brand her as uncool. I was getting frustrated, insisting that all I wanted was to know who was who, and she was getting frustrated, reminding me that NO ONE ELSE'S PARENTS CARE, and a face-off was imminent.
I was about to remind her that she's still 13 and we're still her parents when Otto caught my eye. "I think we just let this one go," he said, quietly. "It's okay." I closed my mouth. We followed her inside, collected her things, didn't meet any of her friends, and after the requisite family time, bid her farewell as she headed off to a celebratory swim party with the band. Later she came home, damp and tired, bubbling over with stories of trying to teach one of her new friends to swim. "She's, like, 16 and doesn't know how. She thought it was really cool I was helping her."
This one time, at band camp? I think we got a glimpse of things to come. Bittersweet.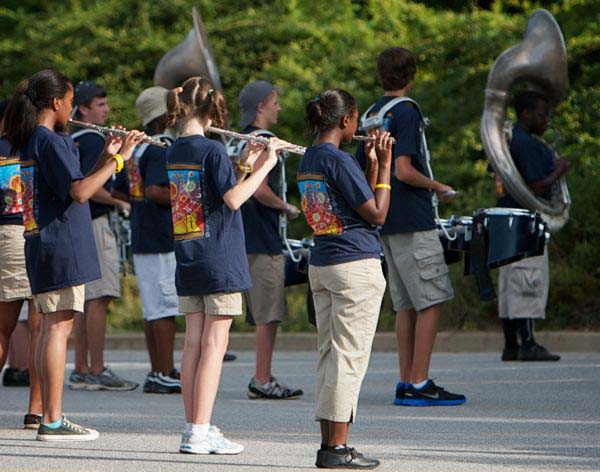 (Photo by Otto. Awesomeness by the always-amazing Chickadee.)