I'm so glad that y'all seemed to enjoy the last post as much as I enjoyed writing it. Sometimes I'm not sure if things are just amusing in my head or actually amusing in general, and the confirmation that yes, my Native American name should've been Dances With Morons warms the cockles of my twisted little heart.
Of course, it seems I've left you with a few burning questions, and that just won't do. Let me see if I can address some of your queries.
Many of you wanted to know if 1) Otto and his friend still saw the film and 2) how it was. I subjected my husband to a hard-hitting interview to get the scoop for you. And this is particularly notable because Otto is out of town at a conference, and he called home to check in and I was all "Let's talk about that 3D porno." Lucky Otto!
I just happen to have a transcript right here:
Me: My readers want to hear about the 3D porno.
Otto: Really?
Me: Yes. They want to know how it was.
Otto: I really don't remember.
Me: I find that hard to believe.
Otto: Uh, it's not like it had much of a PLOT, you know?
Me: Oh. Right.
Otto: Sorry…?
Illuminating, yes? (Also: Being married to me is a non-stop joyride, I'm certain.)
There was also some discussion of whether or not I looked up PB on Facebook. The truth is that even after we broke up, I stayed in touch with him and his mom on and off for many years, until it became clear that it was all just more crazy than I needed to have in my life in any capacity. PB ended up marrying someone who was clearly insane and his mother made no bones about how much she wished it had been me, instead. Crazy Wife tried to befriend me, and 'round about the time I had a miscarriage and she wrote me a long email about how lucky I was that the baby had died (no, really) I called up PB and said, "Oh, hey, you and your batshit nutso wife need to stop talking to me, ever." At some point years later he tracked me down to tell me they were getting divorced, and I was also getting divorced, and he seemed to think that meant we could be bestest buddies, and so I made myself scarce as quickly as possible.
In short: When I got on Facebook, the first thing I did was look him and his mom up and block both of them. Obviously.
Also, Patricia wanted to know why broccoli is bad, and all I can tell you is that Otto swears a piece of broccoli once tried to kill him. The rest of us LOVE broccoli, and Otto is weird.
Originally I planned to spend today telling you about yesterday, but then I realized it wasn't exactly an entire post's worth of information. Cliff Notes version: Yesterday I decided to drag my cave-dwelling daughter outside, and so I informed her that WE WERE GOING SWIMMING and went to great pains to make sure she was adequately protected from the sun, but then I went out and cleaned the pool before I put sunscreen on myself. Because I'm stupid. We had a lovely time splashing around together and tormenting the dog, and it wasn't until I was getting ready for bed, hours later, that I discovered my back is completely sunburned. DO AS I SAY, NOT AS I STUPIDLY DO, KID.
Okay, so, here's a couple more pictures from the newly-recovered packet of photos.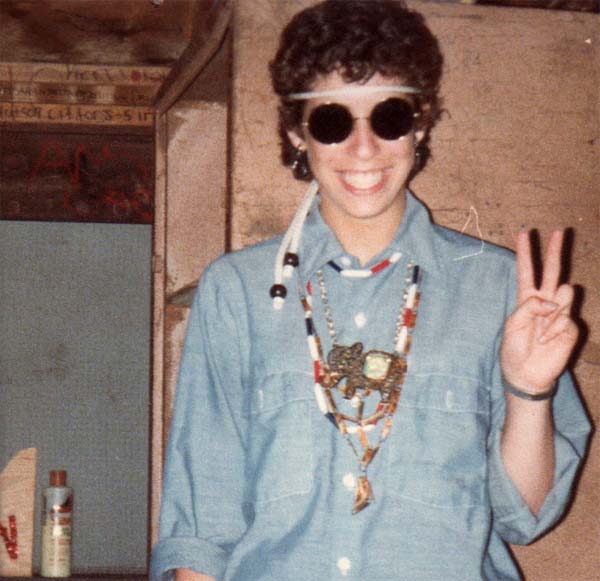 Here I am at Chickadee's age, dressed up for "hippie day" at summer camp. I showed her this picture with great glee—"look, this is me at your age!"—and she said: "Wow, Mom. That's… uhhh… nice."
I'll grant you that my hair is kind of… poodle-y… but I don't think that picture even holds a candle to this next one:
Here I am at some point in college, hanging out in a friend's room, reading a book. And yes, I am wearing tapered-leg strategically-bleached jeans. Not only that, I can guarantee you that they went all the way up to my belly button, AND I was likely wearing a belt just to accent that particular bit of awesome.
The saddest part is that my friend took this picture specifically because she had a friend she wanted to fix me up with, and he wanted a picture of me. This is the picture I let her show him, because apparently I believed I looked pretty hot. (I can't remember what happened, there. We never did go out, but it wasn't because of the picture. Because the picture was FANTASTIC. Maybe by the time she got around to it I was already dating PB? Unsure.)
I have to go figure out how to put aloe on my own back. Maybe I should've made Chickie do it before she left for band camp this morning.