Let's do a quick review of recent world events, shall we?
1) Norway. God. What did the people of Oslo ever do to anyone? Why are there still so many people out there who think The Answer lies in blowing people up and shooting them? I don't understand.
2) Amy Winehouse. Hey, it turns out that addiction kills even people who are really, really talented. How about that. Would it be wrong to tell my kids that if they ever even try drugs I will break their legs? Because I'm okay with that if it's not going to get DFACS over here.
3) School. As in: starts in two weeks. As in: we haven't the faintest clue what the plan is for Monkey right now. I've spent two solid days making phone calls, sending emails, researching, talking to people. I'm lost. I'm tired.
I've been saving the following for a suck-ass day like this one. It's time.
I actually received a sign about this: Pictures!
See, I have a couple of stories I've always wanted to tell here. Something along the lines of "Hey, this may come as a shock to you, given that it took us close to 20 years to figure out our relationship together, but Otto and I had really, really bad taste when it came to romance for a long time." Otto's stories aren't mine to share, of course, but I would giggle a lot if he did. Our joke (in the platonic days) was that he had a thing for wounded birds. Otto is a fixer. But some of the broken wings he came across were attached to psychopaths. I'm just saying.
Me, I just had garden-variety poor judgement. Shocking!
And when Chickadee came back from her dad's house, she gave me an envelope of pictures. Really old pictures. Pictures of mine, that had somehow ended up in a box of his that hadn't been opened since before our divorce. I kind of want to make fun of the 8+ years it took him to discover that he had them, but the truth is that I think it's nice he returned them to me (I had already given them up as lost forever years ago), so I'm not going to complain.
Of course, I never want to embarrass someone, so I've taken the liberty of disguising the men in question. I'll tell you about two of them, now that I have the pics.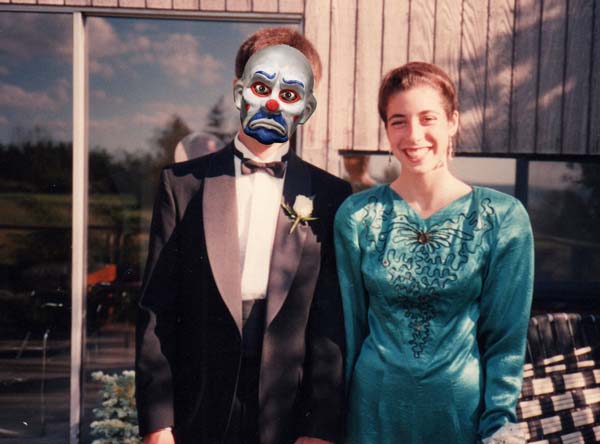 Meet the guy I went to senior prom with, lo those many years ago. Let's call him Catholic Boy, or CB for short. And before we make fun of him, yes, let's please take a moment to admire my terrible posture, questionable prom dress, and shoulder pads. Yes. (This dress was backless and I remember thinking it was SO mature.)
CB and I both came out of long-term, serious relationships just a few months before prom. And we were both somewhat relieved to have broken free prior to graduation; who wanted to be dealing with a long-distance relationship, anyway? We were headed to college! New life! New plans! We decided we'd plan to go to prom together as friends.
I'm a little fuzzy on the details, but I think we lasted about two weeks with our grand "as friends" plan before hormones got the better of us. By the time we went to prom, we were dating.
My previous boyfriend had been a lot older than I was (a lot; that's a whole 'nother story), and CB's previous girlfriend was a lot more Catholic than he was. Let's just say there was… a bit of inequality in our experience levels at the start of this relationship. Ahem. That was eventually rectified, much to CB's horny teenage delight, even though he once got so drunk at a party that he turned to me and said, "OH MY GOD, I LOVE YOU SO MUCH, JENNY!" (Jenny was not the name he said, but neither was it my name. It was one of my best friend's names, though. And she was standing right there. Ouch.)
We continued dating through the summer, and then I went away to college and he went to college in town. I did a lot of studying and he did a lot of drinking. We broke up. I came home for Fall Break and we got back together. I went back to school and we broke up. The end.
About a year ago I came across CB on Facebook. He's married now and has an adorable kid, so I sent a friend request and did the standard catching up once he accepted it. A few months later he unfriended me with no explanation. I cannot help feeling that there was some exchange with his wife wherein she asked who I was and he explained and she decided we should not be friends, possibly because I am a trollop. It sort of makes me laugh (because I give him a pass for being young and stupid, but he was a horrible boyfriend in so many ways) that I would appear to be a threat to anyone in this situation, but I realized a long time ago that I often just do not get people. So.
Let's move on to my college boyfriend, the one I ended up with after Otto rebuffed my advances so many times! (Kidding, Honey!) (But not really!)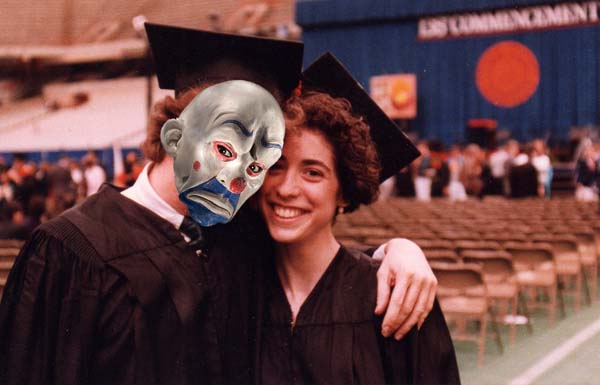 Was I not adorable and practically fetal when I graduated from college? I think I was.
The fella in the picture (let's call him PB, though hang on for the explanation) was my boyfriend for the last couple years of college. He was from the town where we went to school and we hung out with his family a lot. I grew quite close to his mother, though she once invited me over for a "girls' lunch" and took that opportunity to tell me that she felt that PB's and my relationship wasn't staying as Godly as it should, and it was my responsibility as the female in the couple to put a stop to it, because men can't help it. (SWEARTOGOD.) After I collected my jaw back off the floor, I told her that I enjoyed her friendship very much but that what PB and I did in private wasn't anyone else's business, even hers.
And then we awkwardly sipped our iced tea for a few minutes and I waited for a hole in earth to open up and swallow me, but it didn't happen.
The assumption was that we were headed for marriage.
Now, it's not that our relationship was without issues. We had some, sure. Most notably, it seemed that PB's previous girlfriend had been very possessive, and so—even though I'm not the jealous sort—PB went to great pains early on to make it clear that he would often need his own time and space, and we wouldn't be seeing each other every night, etc. That was fine with me, although he sometimes insisted he needed "a night at home alone" when we'd made plans.
In fact, here's where Otto and PB overlap: One night our campus movie theater was showing—I hope you're sitting down—a 3D porno. Which I thought was the most hilarious thing I'd ever heard in my life. I told PB I wanted to go see it; wouldn't it be a hoot? I'd never seen any porn before and figured the most ridiculous offering possible, in our campus theater instead of some skeevy Adult Bookstore, would be the way to check it out. PB said okay, we could go. But then he called me a few hours beforehand to say he had too much work to do and he needed to stay in the lab and study.
I was disappointed. I tried to tell him he could work the next day, but no, he said he had stuff he HAD to finish. Okay. But then Otto called me and asked if I was going. I told him I'd been planning on it but now PB couldn't go, and I certainly wasn't going alone. Otto said no problem, a friend and I are going, we'll come pick you up. See you soon.
I called PB and let him know, and I'm pretty sure he gave birth to live kittens. I thought what I said was "Given that you've decided you can't go, I'm going with a couple of friends instead," but I think what he heard was "Given that you've decided you can't go, I've decided to head to the theater naked and give blowjobs to anyone who asks." He argued with me. He begged me not to go. I was completely baffled.
And the next thing I knew, PB—who previously couldn't manage to take the evening off—was pacing my apartment and insisting I not leave when Otto and his friend showed up. I gave in and didn't go. I cannot remember what explanation PB offered beyond feeling that it was inappropriate for me to go, and I remember being pissed that he didn't trust me, but we continued to date.
Things came to a head shortly after graduation. We were both working at the university for the summer. I would work for a year, then go to grad school. But PB planned to stay in town indefinitely, and subtle hints gave way to outright demands that I not plan to leave, either. I didn't need grad school! I was just going to be his wife and the plan was to settle down right here! It didn't take many of those conversations before I was forced to break out a carefully rehearsed "We clearly want different things and I am not ready to give up my plans for someone else" speech.
PB was devastated. He begged me to reconsider. I apologized, but told him I needed my space. He showed up back on my doorstep the next day with an engagement ring. We could fix this, he said. He knew he had made a lot of mistakes. He would change. Why, he'd start right then. And then—I wish I was making this up—he opened up his wallet and withdrew a video rental card. The card went to one of those Adult Bookstores; as I stared at him, uncomprehending, he dramatically ripped the card in half while confessing that all of those "evenings to himself" had been spent watching porn and he was through. Then he tried to give me the ring. Because the only thing a woman wants to hear more than "I want to spend the rest of my life with you" is "I'm addicted to porn but now that I said I'll stop you should want to marry me." PB = Porn Boy.
[Side note: I wonder how all of that might've gone down if the Internet had existed back then. He probably could've watched a lot more porn, and maybe stupid me would've figured it out a little sooner, huh?]
Needless to say, I declined his generous offer.
And I never did see that 3D porno film, either.
No, none of this has anything to do with anything, but I feel inexplicably better, sharing the ridiculousness with you, anyway.