Listen, it's kind of been a whirlwind around here for the last few weeks: There was getting the kids ready for their trip, and then we went camping, and then Kira was here, and then Otto came back, and then another old friend of mine came by for a quick visit; and you know all of this is a bit much for my delicate system—all of these comings and goings—and really all I want at this point is to sit on the couch with some popcorn and something terrible on television and not have to talk to anyone for a while.
Of course, that is simply not how my life goes… um, ever. Which is fine. Really, IT'S FINE. WHY AM I YELLING? Ahem. No. It's totally fine. There's always things to be done and stuff to take care of no matter how slug-like I'm feeling. And at least Otto being home again means that when I get up in the morning and regard the coffeemaker with a mournful expression and a plaintive, "There isn't any coffee in here," Otto is willing to swoop in and fix my life, or at least my coffee.
There may not be enough coffee in the universe to get me through this week, though.
Squashes:
Here's what I always forget about gardening: Zucchinis are possessed. Other vegetables grow at a predictable rate—or, in the case of my banana peppers, are devoured by pests at a predictable rate—but zucchini are all "Oh, hello, I am but a tiny bud. Nevermind me! It will be WEEKS before I come of age!" and then the very next day you have a zucchini the size of a rottweiler. You would think that after YEARS of gardening I would be able to remember this, but you would be wrong. Because it's WEIRD. How does a squash, on a day when there's no rain at all, grow eight inches overnight? I am suspicious.
Nevertheless, after Kira left I decided to visit my garden just to see how things were going. And I found this: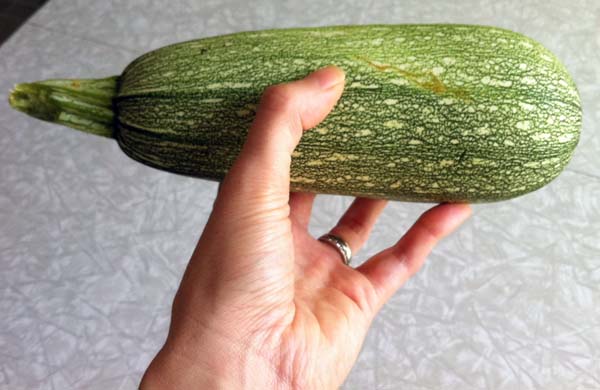 Can you tell from the grotesque, claw-ish-ness of my hand that that thing weighs about three pounds? I did manage to pick it before it reached baseball bat length, but it's already huge. And the problem with those rogue 'cchinis is that they don't taste good. When they get huge they're just not as yummy. So I'll be making that into… muffins, probably. Lots and LOTS of muffins.
Epilogue: You'd think that finding that on Sunday taught me my lesson, but I carefully checked the rest of the box and went on my merry way. By yesterday (Tuesday) there was ANOTHER one, which I swear wasn't there before. THE MUTANT SQUASH ARE TAKING OVER, RUN FOR YOUR LIFE!
Fences:
No one says hello to us, anymore. The standard greeting to anyone who lives in my house is now, "How's your fence? HAR HAR!" Because it's hilarious, you know. For everyone else, anyway.
The answer is that today is day 33 of our 2-day fence job. HAHAHAHA. HA. Oy. But the GOOD NEWS is that they're going to finish today or we're going to kill them all. Er, I mean, they swear they're going to finish today and we are just WAITING PATIENTLY.
This crew (crew number four, for those of you keeping score at home) arrived bright and early Monday morning and proceeded to rip down our stupid vinyl fence. Now they're putting up a cedar fence, and it smells very nice in our backyard. Also, it looks like an actual fence, or at least like it's turning into one:
The best part is that when they arrived on Monday morning, the foreman handed me a satisfaction survey to fill out. "Oh, no, honey," I said to him. "You REALLY do not want us to fill this out."
He looked kind of stricken, but then said, "Ma'am, this is a survey for you to fill out on MY crew. When we're done. Not the other folks who've been out here, just my team. And we're gonna get you all taken care of, I swear." He is sort of earnest and adorable and so assuming this ends up being a completed fence in the very near future, we will probably give them a good evaluation.
Yesterday I walked outside with the dog and one of the guys was hosing himself off, shirtless, and he began apologizing profusely. It took me a minute to realize that he was apologizing for having his shirt off (behind the house) and he said he was just cleaning off and putting on a clean shirt, he was so very sorry. It was about 98 degrees out and all I could manage to say without laughing was that I'd rather he do whatever he needed to do than die of heat stroke on my lawn, and he seemed relieved.
It is just hilarious to me that after this prolonged comedy of errors, a guy is apologizing for taking his shirt off on my property. Dude, build the fence stark naked with tassels hanging from your balls for all I care. JUST BUILD THE FENCE.
Ants:
When we got home from camping we had ants in the kitchen sink. 'Tis the season, and all of that, but I am an equal-opportunity bug hater and I ESPECIALLY hate those tiny little ants that appear out of nowhere and get into everything. Bleah. We tossed a couple of ant traps on the counter and a day later the ants were gone. Hooray!
A day after that, they were back. Boo! I repositioned the ant traps. A day later, they were gone again.
A day after that they were back, and I was unable to walk into the kitchen without breaking out in a knee-jerk string of obscenities at the sight of tiny ants all over the counter. And then I remembered that we have a Bug Guy and I should just call and get him to take care of it. (I'm not entirely sure why that wasn't the first thing I did.) The woman on the phone was all, "Is there a time today that is better for you?"
I said, "Whatever time he can come and kill these ants is the best time for me."
She seemed to find this amusing, and pointed out that, "This is just the time of year that the ants come inside for water, you know, we'll get it taken care of for you." Like, she was reassuring me it wasn't my shoddy housekeeping or whatever. And that was a huge relief, because really, I'd been feeling so down about my… ummm… propensity for leaving the ants a nice clean kitchen counter to ravage. Or something.
I mentioned the woman's comments to Otto. "Oh!" said Otto. "Of course! They're coming in for the water? Let's just start keeping all of our water OUTSIDE, then." He's so smart.
In conclusion: There's never a dull moment 'round here. I mean, some people make lemonade when life hands them lemons, so I think I'll bake the fence guys some zucchini-and-ant muffins. That seems fair.