Memorial Day weekend is fast shaping up to be a barn-burner, over here. I don't really even know what that means, but hey, I am taking a lot of drugs, so it seems appropriate somehow.
First, fence update! Guess what! No, really, you will NEVER GUESS. Oh. You guessed. Hmph. Yeah, that's right—the fence is still not done. Oh, technically there is now fence all the way around the pool area, at least (though even that was looking doubtful until shortly before we left town), but we have yet to negotiate the fixing/replacement of all the damaged stuff, so that awaits us on our return. Awesome. I am planning to take EXTRA drugs before that happens, fall into a deep stupefied slumber, and make Otto deal with it.
Second, camping update! Guess what! Okay, this one you may not guess. We hitched up on Thursday and towed here to South Carolina (state motto: Super pretty, and right next door to Georgia), and then we set up camp and tried to decide what to do first. Only, before we could decide, the heavens opened up and it POURED. But then it stopped, and that was okay, because we figured we would do something fun on Friday. Except on Friday, it poured again! And today is looking decidedly gray. So. I have renamed this camper Our Very Expensive Mobile Board Gaming Unit.
(On the bright side, Qwirkle expertise is growing by leaps and bounds. And really, can you put a price on that? You cannot.)
Third, tongue update! In desperation I brought the pain pills the doc had prescribed, even though they upset my stomach the other day, thinking that perhaps if I took them with food I would be okay. Well, the good news is that I was right—taken with food, they don't make me sick. They just make me unconscious. So I spent most of Friday asleep. Which I'm guessing was preferable to my family to me sitting around whining that it huuuuuuuurts, how can one little cut in my tooooooongue hurt sooooooo muuuuuuuuch?
Furthermore—squeamish people, do not read this paragraph—I woke up with my face and bedcovers encrusted in blood, terrified I'd ripped my tongue out in the night or something. But no! I had merely (I am not kidding, STOP READING IF SQUEAMISH), um, chewed off two of my three stitches. One of them was stuck in my teeth and the other one is MIA. YOU ARE WELCOME FOR SHARING. The good news there is that I think the stitches were more uncomfortable than the wound, because it doesn't hurt quite so much today. And if a large chunk of my tongue falls out of my mouth I guess I'll call the surgeon to inquire, but otherwise I'm just going to take a lot of Advil and call it good.
And finally, Licorice is a happy camper, so there's that: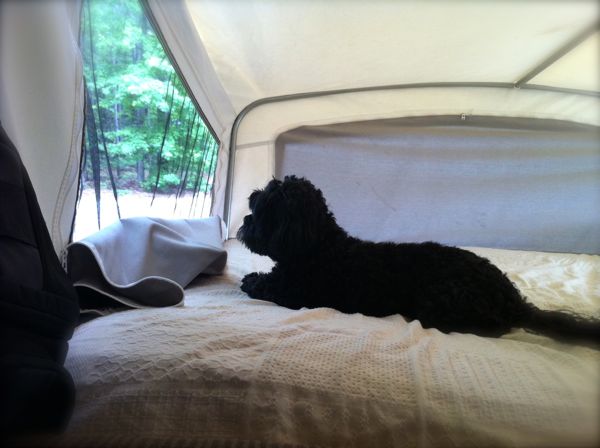 She would like you to know that regardless of stupid fences or rain or bloody tongues, there are many squirrels here that require watching.