Here's a real tragedy for you—this year Pi Day fell during spring break. This was quite disappointing to my nerdlings, but fortunately my son's math teacher recognized it for the tragedy that it was, and deemed the first day back to the school the Official Pi Day Celebration.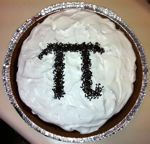 They celebrated with pie, of course. Here's our contribution (click to embiggen) to the festivities; it's a chocolate cookie crust filled with chocolate pudding, cherry pie filling, and whipped topping. (Mmmmm, Pi Sugar Rush!) Fueled by pie, Monkey won the day's pi recitation contest by rattling off 54 digits before succumbing to a complete sugar coma.
I hope this is the sort of thing he'll think of when he reflects on his childhood, someday. I hope he remembers the whipped cream and licking the beaters and winning a set of markers from his math teacher, and time softens the hard edges of the rest of it.
Happy Love Thursday, everyone. (Bonus pro tip fo the day: When in doubt, add more sprinkles.)