It would not be an exaggeration to say that Monkey is not exactly the most popular kid in his class. He has his BFF, and a couple of other kids he likes, and then on a good day, he tolerates everyone else. (On a medium day, he doesn't acknowledge anyone else's existence, and on a bad day, he gets himself punched in the face.)
Monkey's teachers, however, tend to adore him. We've been inundated with emails and phone calls throughout all of this, and both his parapro and his homeroom teacher have already paid him post-surgical visits. (This is why I bake cookies, y'all. Because I can't afford to buy then all the pink, sparkly ponies they deserve.)
Perhaps you can imagine my surprise when his teacher showed up with a stack of homemade "get well" cards the class had made for Monkey. It was sweet of her to think to have the kids do it, but I was completely blown away by the cards themselves. "They've all been very concerned about him," she said to me. Which was when I realized I had seriously underestimated the empathy of the average 5th grader.
Monkey started with the card Lemur had made for him, of course, which featured a large Pokemon character on the cover and inside was peppered with wisdom that makes sense only to the two of them. ("Brains. Who needs 'em? I has a burrito!" and "AMEOBA!!!" featured prominently.)
But there was also the "Get Well SOON!" card from "the middle table"—whether that's a lunch table or a classroom table or just a club I don't quite get, I'm not sure—signed in careful handwriting and bright colors by a bunch of girls.
There was the card that opened up to reveal a Monkey-themed Jumble, which he unscrambled to spell Monkey, math, bugs, and other words he likes, which was then followed by:
Dear Monkey,
Get well soon!
I can't wait till you come back! We are studying atoms in science. I think that is something you would enjoy! Sorry about the tonsils and adenoids.
(signed)
Really Sweet Girl Monkey Never Even Mentions
There were several "I hope it didn't hurt that bad" cards, including the giggle-inducing "Too bad, your non-tonsil and adenoid mouth hurts so much" one. There was the encouraging "You will be ok when your DONE" one.
There was the rainbow-adorned:
MONKEY! MONKEY!
Come on!
U can do It!
MONKEY!
Monkey,
I hope you feel better real soon so you can come back!!
Love,
Another Really Sweet Girl
There was a ninja comic strip drawn for him by another buddy, depicting a bloody battle in which our hero was finally the victor, declaring "Rock and Roll!" and then, of course, "Get well Monkey!"
There were bug charts and homemade sudokus—all the more touching to me because these kids clearly know what Monkey loves, even though he often knows little or nothing about them.
There was the newsy letter:
Dear Monkey, I hope you fell better, you missed the spelling bee I bet you would have won. [Kid] and [Other Kid] won, well [Kid] was the winner, [Other Kid] was runner up. In our class [Third Kid] was the last person to get out.
Sincerly,
Yet Another Very Nice Girl I've Never Heard Of
And—quite possibly my favorite—there was the card with a giant GET WELL SOON MONKEY BUGS on the front, and this missive in beautiful cursive:
Monkey, I hope you have fun recover from your tonsils. I really know that Lemur misses you and without you he is very lonely.
Sincerely,
Perfectly Lovely-Seeming Girl Who Monkey Assures Me Once Pushed Him On The Playground, Not That He's Holding A Grudge Or Anything
As Otto is good enough to keep reminding me, despite the various challenges and hurdles of this particular school district, there is way more right happening here than wrong.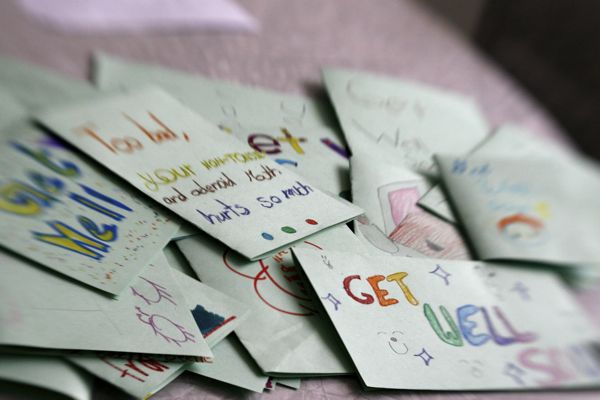 Happy Love Thursday, everyone.