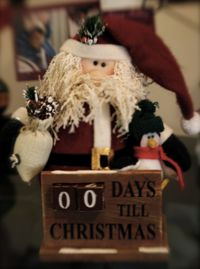 Today is Christmas.
Oh, okay; TECHNICALLY today isn't Christmas, but today is OUR Christmas, because the kids are leaving tomorrow. Which means that there is currently a big mess of wrapping paper in my family room.
My biggest concern with the whole timing thing was not, in fact, today, but last night. See, the elves bring new pajamas on Christmas Eve. And the kids had already been informed that there was no way that Santa could come early—he is far too busy in these last days before the holiday, after all—but that we would do our family gifts, and after they return we'll see if Santa came and what he brought. But then there was the matter of the elves. Might the elves make a special early trip?
I just wasn't sure how to handle it. Fortunately, the weather made it easy.
If you live here in Georgia, you know that we've had an unseasonably cold fall and early winter. Just bitter cold, lots and lots of days. We're actually supposed to have snow accumulation on Christmas Day, which is CRAZY, and speaking of crazy, my husband is already planning to GO SLEDDING. On the inch of snow we're gonna get. HAVE FUN, HONEY! Anyway, it's been very cold here. But yesterday was even crazier—it went up to about 65. Which was just plain nuts.
So after dinner I suggested we go out to Chik-fil-A for peppermint chocolate chip milkshakes, because:
1) It was unseasonably warm,
2) that's a delicious, limited-edition flavor,
and
3) I had coupons! (I am a party animal, I know.)
Normally the elves come when we go to church on Christmas Eve. But no one ever said they couldn't stop by while we were out having milkshakes, right? Right.
I found Chickadee in the kitchen right before we left and said, "Don't let Monkey come back upstairs for a sec, okay?" She looked confused, then realization dawned, and she nodded. Monkey wandered in and I told him to get his shoes on, I was just going up to fetch Otto and then we'd go.
I ran upstairs calling, "Otto, time for milkshakes!" Because I am subtle. And that was louder than me quickly zipping to each of the kids' rooms.
When I came downstairs again, Otto in tow, I found the kids down on their knees in my office. "I dropped a paperclip!" announced Chickadee. "Monkey is HELPING ME LOOK FOR IT." I squelched a laugh and told him we'd find it later, and once he headed out the door I gave Chickie a little squeeze.
We went and had our milkshakes. They were delicious.
When we came back, Monkey headed upstairs to take a shower. And a minute later he came running back down, breathless, to show me that THE ELVES CAME MOM THE ELVES CAME!!
[He's going to be 11 in less than two weeks. I know it's ridiculous that he still believes. But he does and if you tell him otherwise I will break your nose.]
Eventually the kids were nestled snug in their beds in their new jammies, visions of AWESOME LOOT no doubt dancing in their heads.
This morning Monkey was the first one up, and eventually the rest of us straggled out and we assembled to begin the festival of rampant consumerism.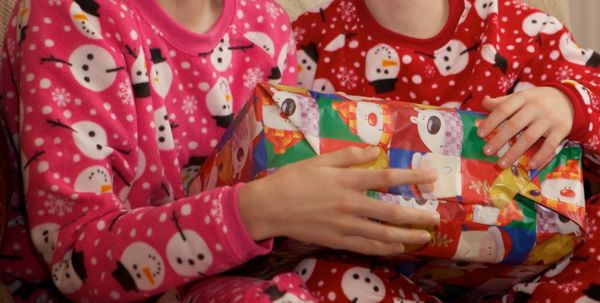 My children are very cute, in spite of the fact that they're headless. Don't the elves have excellent taste in cozy jammies? And that package they're holding together was the first of the holiday, designed to nurture their bodies and spirits and help them grow as wonderful human beings who love each other.
Yeah, it was a two-pack of Snuggies.
They were thrilled. Ridiculously thrilled, really. They have been walking around looking like colorful, undersized monks all morning.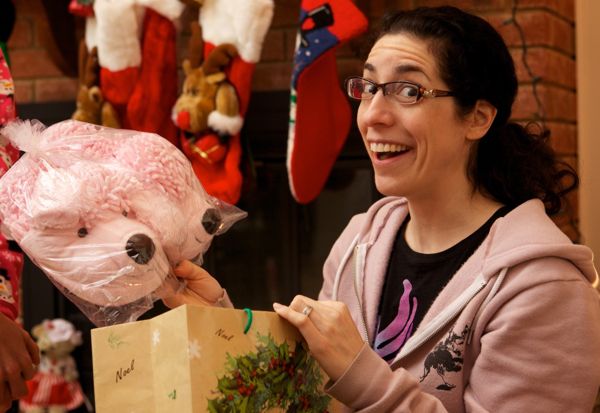 I got some super-awesome pink poodle slippers. Because I'm just that cool. And also because my husband thinks my wicked good LL Bean slippers should be my "work" slippers, and I should have some other "relaxing" slippers to wear when I'm not at the computer. This is what my life has become; I am now the sort of person who needs two pairs of specifically designated slippers. Wow.
Licorice was deeply concerned about my new slippers. First, she was concerned that I might love them more than her. Later, she became concerned that they might be delicious.
Fortunately, we then gave Licorice a Christmas rawhide and everything else pretty much ceased to matter.
Once all the presents were opened I found myself feeling very glad that we'll be doing stockings and Santa gifts another day; there was plenty of STUFF, already. Related: Monkey received an embarrassment of LEGO. Other than a brief pit stop to inhale the brunch I cooked the kids after we cleaned up a little, I haven't seen him since. He is building Something Important, I'm sure.
Despite our various disappointments over scrapped travel plans and changed schedules, today feels like I want Christmas to feel.
And I'm not even saying that because I have pink poodles on my feet.
Happy Love Thursday, everyone. And merry Christmas.