Today I am grateful for the resilience of my youngest child; my baby, my heart, my sweet, sweet boy with the misfiring brain.
I'm grateful he endured this without too much complaint: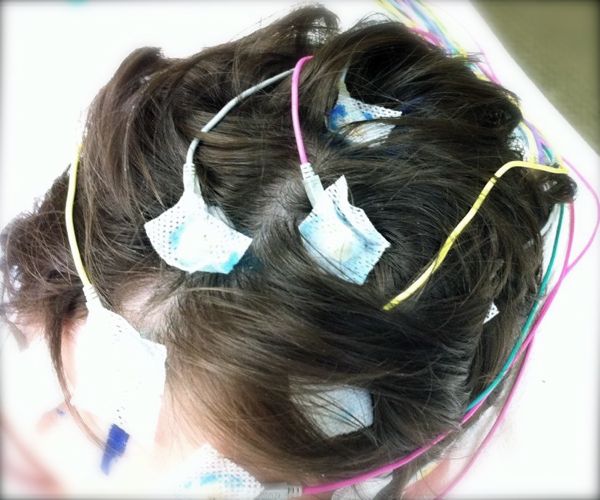 And then—because that wasn't enough excitement—we followed it up with an MRI. Just for kicks.
The reality, of course, is that you have these scary tests and then you sit back to hurry up and wait. It was nice of them to get us in so quickly for testing, but now everyone is off with their families enjoying the holiday and completely unconcerned about the fact that it feels like we haven't dared to breathe for about a week and a half.
Because about ten days ago—in the wake of yet another heartbreaking round of Monkey-goes-Hulk-on-the-deeply-displeasing-world, during a Very Serious Discussion About Your Behavior Young Man—Monkey had some kind of seizure.
That was new. And completely terrifying.
We don't have any test results from the doctor, yet, but I do happen to have a cousin who is a radiologist and a very wide smile with which I convinced the MRI tech to give us a disc of images. My cousin gave the standard caveats about not being a specialist in pediatrics, but says he doesn't see anything. Which was enough for me to exhale, for now.
There could still be something there. There could be nothing there, but the EEG might reveal something worrisome. There could be nothing on the MRI, nothing on the EEG, and then… I'm not sure what comes next. Something is wrong, but so far no one knows what it is.
Nonetheless, I'm grateful that whatever is going on in that little head, Monkey is still Monkey, still my sweet boy, even when it sometimes feels like he is being slowly dismantled by forces we can't control. As long as I can smooch one of those dimples and get a smile in return, I have much to be grateful for.