I don't have the words to tell you all how much it means to me when the Internet proves, once again, to be a place filled with kind and thoughtful and just plain NICE people. Yesterday I needed to let it all out, and I did; then my finger hovered over the "Publish" button as I wondered what backlash might be sent my way as a result. I published it anyway, and then wept grateful tears for most of the day as my inbox filled with lovely, compassionate comments. By the afternoon, I felt better. Lighter. Ready to keep going and keep knowing it will still be okay.
Thank you. I know it sounds corny, and I know we're all more comfortable when I'm just calling you pretty and promising to send everyone a pony that poops glitter, but you are a gift, each and every one of you who takes the time to read and reach out. It means the world to me.
Yesterday afternoon, the doorbell rang. Now, I get various envelopes and packages almost every day, and yesterday I was 1) puffy-faced from crying and 2) still in my pajamas when the bell chimed and Licorice skittered across the entranceway barking like a lunatic. I decided I would just wait for the delivery guy to leave whatever it was, because I sure as heck wasn't opening the door looking like that.
But then whoever it was rang the bell a SECOND time, and I had to answer. I was surprised to open the door to a woman holding one of those edible fruit arrangement things, and she was probably surprised to see a grown woman in her pajamas, but we both pretended this was totally normal. I signed and thanked her and she left.
And then I was still puffy-faced and in my pajamas, but holding a ginormous arrangement of fruit cut into flower shapes.
Turns out, Otto's mom and aunt wanted to send us a little thank-you for their visit. It was totally unnecessary, of course. I feel like we should be thanking THEM. (But if I send them a fruit arrangement now, I feel like we could potentially get stuck in a perpetual loop that ends in a glorious explosion of cantaloupe and grapes, and that just seems bad.)
Anyway. I hid it in the fridge as best I could, and later, after dinner, whipped it out with a flourish, much to the kids' delight. We may have, um, played with it a little bit before we devoured most of it. And there may have been some mini-lightsaber duels with the skewers. As Chickadee cheerfully reminded us: EVERYTHING tastes better (and is more fun) on a stick!
Today for Love Thursday, my friend Karen shares this marvelous quote: Love everyone as best you can, but only invest in people who invest in you.
I sat here and thought about my investments, all of them. Those who are easy to love. Those who are sometimes harder to love. And those who love me, no matter how difficult I am. It's good advice, to skip those who don't invest back in you.
But the corollary is also true: There is no investment too great in those who believe in you.
That's what I needed to realize, this week.
And just like I said yesterday, when I look into those eyes, there is nothing I won't—maybe almost nothing I CAN'T—do.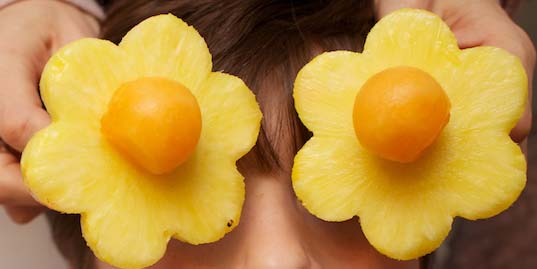 (Even when those eyes appear to be made of pineapples.)
Everything tastes better on a stick, and the right loves are worth our best. Two great truths, right there.