So. Um. Hi! It appears that I didn't really think through yesterday's post. I mean, I thought, "This is an important miscarriage of justice that needs to be brought to light, and I have the luxury of readers and so I will ask them to read about it," when really I should've been thinking, "People who are strangers to me will read about this story and then go onto various bulletin boards and claim that I have posted this story to boost my t-shirt sales." Yes, they're on to me, folks. I shared that story because I want your money! BUY A SHIRT, DAMMIT!
Ahem.
Look; I very rarely use this space for any sort of activism. When I do, it's something that's important to me. If it's not important to you, that's okay. Just move on. No need to get your panties in a wad. [Though, for anyone who has questions about yesterday's post: A bunch of details have been added in the comments by both Hollis (the author) and Kimberly (Hollis' sister, the defense attorney), including the docket number. Please stop with the "this story can't be real."]
So, let's get back to the sort of controversial, cutting-edge storytelling for which I am best known, shall we?
The kids went back to school today. That means, of course, that I have my obligatory first-day-of-school-shoes picture to share with you.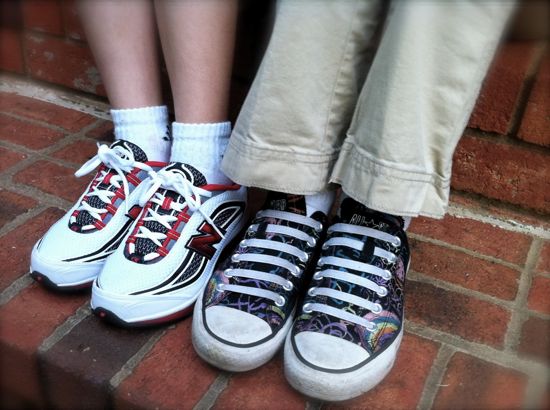 [GASP! SCANDALOUS! Who does she think she is??]
The mood this morning was a bit nervous, but mostly excited. I am just quietly tearing up over this photo because for the first time EVER, Chickadee is old/cool enough that new shoes on the first day of school would be total blasphemy. No, she's wearing her beloved sneakers from last year, because it's humiliating enough to have to wear a (crisp, new) uniform without having to sacrifice her cool shoes. Monkey, on the other hand, was kind enough to let me see his shoes in their original white state, which is handy because I guarantee they'll be orange by the time he gets home this afternoon. Hooray for Georgia clay!
I got up early and packed lunches and wrote encouraging little notes to tuck inside their bags and even pulled out the silly bands I purchased as a special little present. And then I forgot to give them the silly bands, so I guess it'll be a "Yay you made it through your first day back, here, have some rubber bands" present, later, instead.
We dropped off boxes of Kleenex and bags of books to donate and everyone went forth to start what will—hopefully!—be a great school year.
(I… hope that story wasn't too unbelievable for anyone. Counting down to the first accusation that I'm actually a balding man in Tacoma who doesn't even have kids….)