Hi, would you like to buy a Funk? It's used—I used it quite a lot the last few days, to be honest—but it's got lots of moping left in it, I'm sure. It's available, cheap. I'm trying to quit.
By the time the kids got home yesterday, I had my feet back under me. There is a certain arrogance in being unhappy when leading what is fundamentally a good and blessed and lucky life, isn't there? I mean, that's not to say that my (or your) problems aren't real and challenging, just that the Right and Mature thing to do, after a while, is to say to yourself, "Self, time to suck it up and deal." Lord knows I say this to my kids often enough; I should take my own advice.
So I did.
Of course, that was made significantly easier because one of the biggest sources of my discontent conveniently fixed itself.
Yesterday was the last day of school.
Now, in the past I have found summer equally or even more challenging than the "regular" part of the year. I still have to work, of course, and the kids do a lot of traveling back and forth to see their dad, and I miss them when they're gone, but they also can make me crazy while they're here, etc. It takes some adjusting, is what I'm saying. But I also think I often head into summer convinced that it will be hard.
The difference, this year, is that the 2009/2010 school year will go down in the Casa Mir annals as perhaps the most awful period of "growth" (AHEM) both children have ever had, so—suddenly!—summer is looking pretty damn good. We all need a break. We all need some time to just… regroup. I feel like we need some time to huddle up and figure out how to best support each other and ourselves, without all of the distractions of homework and "incidents" and all the other things that school has wrought.
So at dinner last night we had a family meeting, and we talked about the summer. We talked about upcoming trips and things we'd like to focus on as individuals and together. Otto suggested that we give the summer a theme; that we all think of this as the "Summer of Pitching In," and each one of us commits to finding new ways to help each other an contribute to the family's overall well-being.
There were a few specific things we asked the kids to work on, and goals we chose for ourselves, too. For example: I am a high-volume person in real life (I bet you had no idea), and in times of anger or frustration I am quick to raise my voice. It is not one of my more endearing qualities. At some point a while back I announced (during a similar family meeting) that I was going to make a concerted effort to yell less, and asked the kids to let me know when I was failing, and for a while there, I was much better (and quieter). But life got stressful again and my volume climbed, and I'm back to being a shrill harpy and I owe my family better than that. I owe MYSELF better than that. So I let them know I am recommitting myself to being aware of my tendency to yell and actively working to stop.
We took a few minutes to talk about recent successes, too. Both kids finished out the school year with great grades and multiple awards for various things. And the stuff we're asking them to work on is only going to enhance the good, as well as mitigate some of the less-than-desirable results we've had lately.
Otto can call this the Summer of Pitching In, but I prefer to think of this as the Summer of Knowing. To my mind, many of the challenges of the last 9ish months are easily traced back to doubting ourselves. All of us. Over the next few months I'm hoping we will all get reacquainted with our best selves, and remember and just KNOW that come what may, we are capable, and we are loved.
And the only appropriate way to punctuate a family meeting like that, of course, is to stay up late and go out for a special dessert.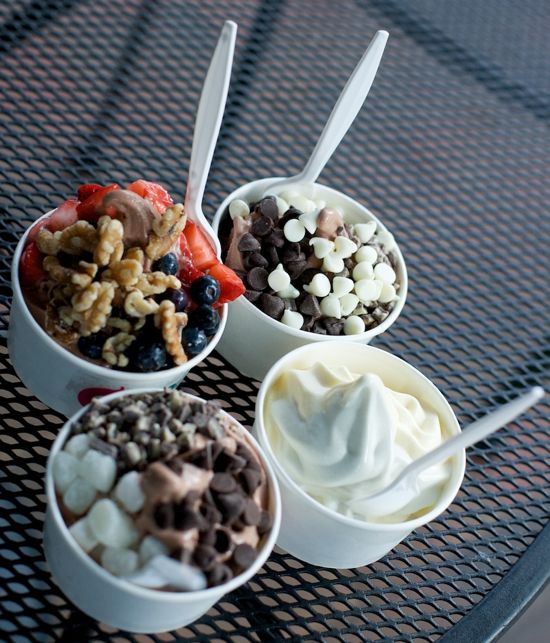 We raised our spoons to being done with school, to better times to come, and to being a family. It turns out that we have a lot to celebrate.
Happy Love Thursday, everyone. What are you celebrating today?