Happy Mother's Day to all my pals out there who:
1) are moms
2) love moms
or
3) have a mom. (I'm pretty sure that gets everyone.)
I started off my day with breakfast in bed, because somehow I ended up admitting that I'd never had breakfast in bed before and Otto made it his mission to make sure that's what I got. So I did. It involved a lot of bacon. And this: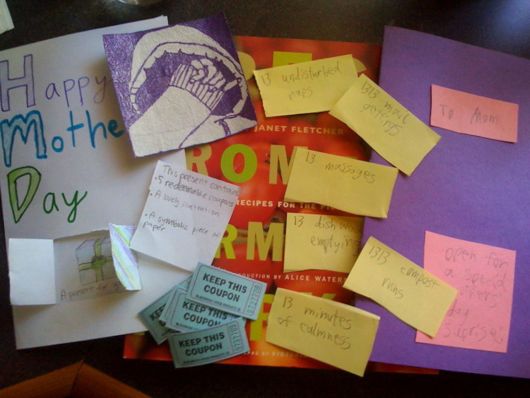 See, the kids each made me cards with bonus stuff in 'em, and Otto got me a book about produce, because—despite my bacony breakfast—I actually wanted a book about Farmer's Markets, because I am just that sort of wild and crazy. Woo!
Monkey knows that my favorite number is 13, so all of my coupons from him involve 13s.
(It would be greedy to wish I'd gotten only 13 compost runs but 1313 minutes of calmness, right? I was afraid of that.)
Chickadee, on the other hand, is often told, "Don't be sad, Emo Kid!" and so she made me this lovely Emo Kid to… ummm… remind me that it could be worse? I think.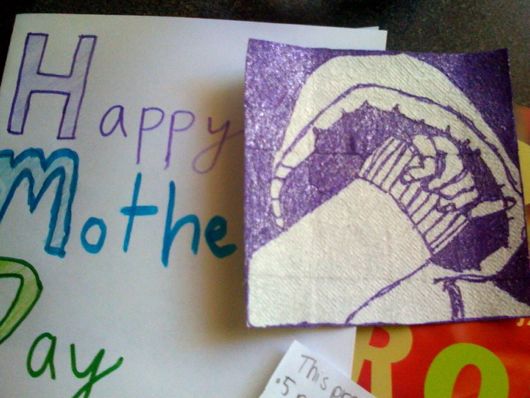 (That's exactly the sort of Emo Kid Chickadee is, by the way. All sad and emo, yet also purple and glittery. Confusing!)
In short, I find this an excellent day to be a mom, and I think I shall keep these kids, because they are highly entertaining.
Here's to 13 minutes of pure purple sparkly bliss for you today, too.