Last year when I started my garden, I had no idea what I was doing. This year I at least have some idea of how little I know, so I consider that progress.
Last year I started almost everything as a plant, with a few seeds sown directly into my planter boxes and grown outside. About a month (maybe even more) after I began the garden, though, I decided to try starting some tomatoes from seed, and so I did that, inside, until they were big enough to transplant. I then moved them to their designated planting spots, where they promptly turned white and tried to die. If you're a seasoned gardener, you know this is because I knew nothing about hardening them and my poor little tomato seedlings went into shock. They didn't die, but it was touch and go for a while, there.
This year I've been taking my seedlings out to the deck and arranging and rearranging them, trying to help them acclimate, trying to make sure they're truly ready for full days of Georgia sun before I let them take root in the ground.
And so yesterday when Monkey came home from school, head hanging, despondent over a bad day, I made him come out on the porch with me and sit and talk while I fiddled with the plants.
Monkey is simultaneously one of the sweetest souls I've ever known and one of the most rageful. We joke about him "going Hulk," and with good reason. True to his black and white life outlook, Monkey is sweetness and light right up until the moment when he reaches anger, and then, Lord, look out. He'd struck out against another student—and yes, he thought he had reason, but that doesn't even matter—and I struggled with how to get through to him on this. Because he doesn't think in those moments of rage. He is a danger at those times; to himself, and increasingly to others.
It scares me. It's a big part of why I am fearful for him in general.
"Monkey, have you ever heard this expression? I think I've told it to you before. Listen: Be kind, because everyone you meet is fighting a battle."
"I think you said that before," he said. "But not everyone is fighting a battle. That's dumb."
We were, by then, sitting together on our porch swing. I picked up his hand and held it. "It really isn't, sweetie. You're thinking 'battle' like knights and swords. Think about 'battle' as ANYTHING that's hard." He furrowed his brow, and rubbed Licorice's head. "See?" I pressed. "Everyone has something hard going on that they have to deal with. And you don't know. You CAN'T know."
"But—" he started, ready to tell me (again) why this other child in class deserved his wrath.
"No but," I said. "A lot of people don't know you have Asperger's. Does that mean you don't have it?"
He looked at me like I was being ridiculous. "No, of course not."
"Right!" I said. "Just because they can't SEE it doesn't mean you're not struggling with it. ARE you struggling with it sometimes?"
He looked down at his lap. "Most of the time," he muttered.
"Right," I said, again, but softer this time. "And you're not the only one, Monkey. Everyone is fighting a battle. Yours is with this. Other people have other issues. The thing to remember is that the kid being mean to you has his own stuff going on, and it has nothing to do with you."
"Like maybe he had a really bad day? Or maybe he's sick?" He seemed to be getting it.
"Exactly. Now let me ask you something. Did you feel bad, today, after what happened?"
His shoulders slumped again. "You know I do," he said.
"I'm going to tell you a secret, Monkey. You never feel bad when you err on the side of love. When you put out love, and compassion, or even just tolerance in the form of walking away from when you think is someone being mean to you. That never feels like this, afterward. It only feels like you were kind, and that will always feel better than that momentary need to get revenge, or whatever. Do you understand?"
He leaned into me for a hug, and nodded into my shoulder. "You are one of the sweetest, kindest people I know," I told him, while breathing in the sweaty scent of his tousled hair. I stopped and kissed his head, then continued, "You're making YOUR battle harder when you forget that. Have compassion. Put out there what you want back from others, you know? You can't go wrong with more love, kiddo. And I know you have plenty to give."
He perked up a little, then said he wanted to go inside because it was too hot. I sent him in with the dog, but stopped to collect up my seedlings, which had had enough sun for the day.
I briefly thought about the parallel between these fragile plants and my own tender sprout of a boy, except that I'm supposed to harden the plants and I feel like my job as a parent right now is to somehow prevent the hardening of this child.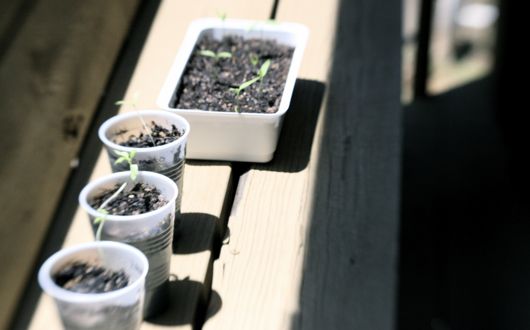 Happy Love Thursday, everyone. Here's to all of us being more mindful of the invisible battles raging around us, and erring on the side of love.