I often feel like a lot of things leave you with no choice but to cry or to laugh, and laughing is a lot more fun.
Not that I always manage it, don't get me wrong. I've done my share of crying. And sometimes I throw in some yelling and swearing, just for good measure (I've always been something of an overachiever, I know). But it's also clear to me that laughter is an undervalued commodity when it comes to maintaining a healthy outlook on life. You know, one that's more "It will all work out in the end" and less "I may just need to punch someone in the face."
Fortunately for me, my family is an endless source of humor. Last night we had a particularly raucous dinner hour—I don't know why, but man, it was LOUD—and afterward Otto pushed back in his chair and grinned at me.
"What are you smiling at?" I asked him.
"Nothing," he said. "I just like how much fun we have at dinner."
Now, the thing you have to remember about humor and our household is that we have two "special" factors at play. First, we have Monkey, who doesn't always get jokes, on the one hand, but on the other hand often cracks us up either with his literalness or earnest attempts to amuse. And second, we have a tweenage girl with a—as we would say in New England (I insert this to make Otto homesick)—wicked sharp sense of humor, but also all of the over-sensitiveness that tends to come along with being nearly-12.
The bottom line is that not-infrequently we'll all be going along having a wonderful time, and someone (read: one of the kids) will suddenly get their nose out of joint over something and the fun comes to an abrupt end. Downer city.
But last night, everything was hilarious and easy and everyone was relaxed and happy. After dinner I found myself thinking about how the kids have changed over the years; how they're still changing, of course, but in particular how Chickadee is maturing and having fewer of the *STOMPSTOMPSTOMP* *SLAM* kinds of outbursts that seemed to be the hallmark of 11, and how nowadays she is usually a genuine delight to be with. I mean, I don't kid myself—the teen years are coming and I have my seatbelt and oxygen mask ready—but she is just so lovely and goofy and funny these days. Sometimes she seems so much older than her years, to me.
And then sometimes we have things like this conversation from earlier this week, after I packed a hard boiled egg in her lunch:
Chickadee: I had Ms. M smash that egg on the table at lunch today.
Me: You… what?? Why?
Chickadee: I was afraid it was raw.
Me: No, seriously. What?
Chickadee: No, Mom! I thought maybe it was raw! I was afraid to peel it! So Ms. M took it from me and smashed it on the table to prove it was hard boiled.
Me: Chickadee?
Chickadee: Yes?
Me: Have I EVER packed a RAW EGG in your lunch?
Chickadee: Well no, but—
Me: Can you think of any circumstance under which I would say to myself, "Oh, hey, I think today would be a great day to TOSS A RAW EGG into Chickie's lunch"?
Chickadee: Well NO, but I didn't know!
Me: Really? You didn't know??
Chickadee: Remember there's a Junie B. book where all the kids crack their hard boiled eggs on their heads, so Junie B. does it too, but it turns out that the hard boiled eggs were right next to the regular eggs in the fridge, and so they'd accidentally packed her a raw one, and she got it all in her hair?
[Here we pause in the conversation because I'm laughing so hard I can barely breathe, and she starts laughing, too.]
Me: One: You read that when you were FIVE and I can't believe you remember it. Two: I have NEVER packed you a raw egg. Three: WERE YOU PLANNING TO CRACK IT ON YOUR HEAD, WEIRDO??
Chickadee: I don't know! I was just worried, okay? But after Ms. M smashed it for me I could see it was hard boiled and then it was fine.
Me: Um, good?
Chickadee: Yes, it WAS good! You should pack me another one.
Me: Sure, but now I have the overwhelming urge to pack you a raw one.
Chickadee: You wouldn't do that.
Me: …
Chickadee: YOU WOULDN'T DO THAT, RIGHT, MOM?
Me: [still laughing] Excuse me, I have to go pee. You're welcome.
Chickadee: Moooooooom???
I got to giggling while I was packing lunches, today. Sorry for the poor quality of the photo—I had to sneak a quick shot with my iPhone before the kids came down to breakfast.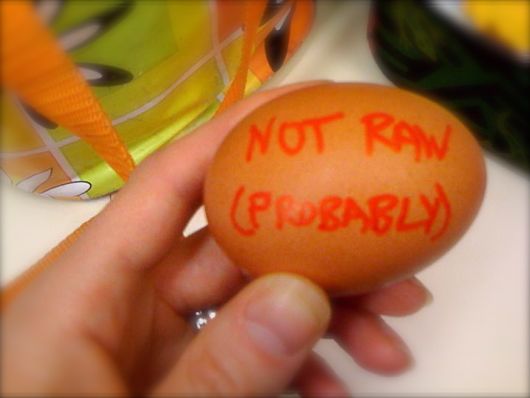 I hope she enjoys it as much as I enjoy laughing with her.
Happy Love Thursday, everyone. I hope you find a way to laugh today and every day.