So yesterday I woke up—after a night of half-awake pain and restlessness—with a stabbing pain just below my shoulder blade that only hurts when I move. Or breathe. So really, it's no biggie at all, except of course that it is.
Now, I've certainly been known to Mess Up My Back through nothing more than foolishly existing or picking up something heavy, but I know EXACTLY what happened to my back two nights ago, and it is this: I went to bed stressed out and overwrought and through the miracle of psychosomatic neuroses I woke up with some bullshit injury. It seems like it would make more sense for my body to just politely jot off a note—perhaps, say, "Dear Mir, This is too much stress and soon it will make us hurt, so maybe have some ice cream and chill out, instead? Love, Your Body"—but that's not what happened.
So I crept through yesterday holding myself as still as possible, enjoying a hearty diet of Advil and Tylenol and even an expired Vicodin I found in my bathroom. (It didn't help. It did, however, make me nauseous. So that was super.) I grumped my way through the day and wasn't much better by evening.
I forgot to plan for dinner. School had called three times. Important calls I'd made hadn't been returned and work languished on my plate while I dealt with everything else. It was a cruddy day. This morning I woke up and the stabbing pain is still there, only now I am two days behind and can't afford to sit around whining about it.
So.
I'll see the chiropractor later. Maybe I'll be fixed after that.
In the meantime, let's all give thanks:
Give thanks that I'm not regaling you with every boring little detail of my freak injury. Why, last night while watching "Best of Deadliest Catch" on the DVR (which is sadder; that we watch it, that we TAPE it, or that we watch "Best of" like the regular season is JUST NOT ENOUGH CRAB FISHING for us?), I began insisting to my husband that maybe I didn't have a back injury at all, but a pulmonary embolism like that captain turned out to have when he thought he'd just broken a rib. ("Because my pain is in the same place! And I spend months out of the year chain-smoking and fishing for crab! Wait….")
Give thanks for spinal curvatures of under 20 degrees. Hip hip hooray! Chickadee has only mild scoliosis at this point. We'll monitor for now, and maybe she'll straighten up.
Give thanks for time's relentless march, because even though it piles the work on my desk, even though it has not yet fixed my back, it has also brought us closer to Garden Season, otherwise known as Mir's Endless Months Of Taking Pictures Of Her Plants And Going On And On About Them Like She's The Only Damn Person In The World Who Ever Grew Her Own Food, Sheesh. Half my desk is covered in our sprout hopefuls, and I'm dreaming of gardening.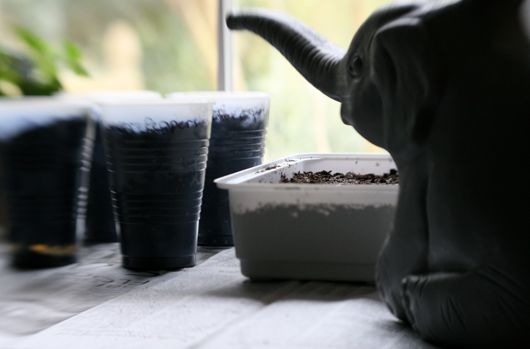 I'm also giving thanks for elephant-shaped watering cans. Because they are excellent and way better than pulmonary embolisms.
Happy Love Thursday, everyone. I'll be over here keeping watch over my dirt, trying not to move too much. Ow.