Monkey is terribly interested in imprinting. Specifically, he finds it unfair that Licorice "knows" I am her mommy, but that she also seems to find Chickadee a suitable stand-in in the event of my absence. Monkey, however, is clearly forever a puppy in her mind, and this bothers him. Chickadee or I can reach into Licorice's mouth and extract even the tastiest treat without a hint of protest, but if Monkey approaches when she wants to be left alone she gives him a little "lay off, kid" growl.
"Someday I'll be adult-sized!" he complains. "She'll have to act like I'm big, then!"
"Oh, I don't think it'll matter," I tell him with a chuckle. "I think she rather likes considering you a puppy. You'll always be her puppy!"
He does not find this comforting. I, however, find it immensely comforting. There are times when I appreciate not being the only mom in the house, you know?
On Monday Chickadee was home sick, and for a little while we curled up in my bed with her baby album, looking through all of the pictures of her as a tiny tiny infant, most often cradled in my or her father's arms. "Look at your face," she kept marveling. "Look at you looking at me like I'm the greatest baby on the planet!"
"That's because you were pretty much the greatest baby on the planet," I said. "And you will ALWAYS be my baby, no matter how big and obnoxious you get. SO THERE."
I like to remind her, sometimes. Monkey needs no reminding; he's prone to hanging off of me and declaring "I WILL ALWAYS BE YOUR BABY. THAT'S THE RULE." You know, just in case I forget, or something.
During my recent office reorganization I ended up laying out some of my pictures and knick-knacks a little differently than before, and now I have space to put out a pair of picture frames that were hidden behind other stuff, before. The kids gave them to me for Christmas in 2004.
In 2004 I started this blog. In 2004 I was unemployed. In 2004 I thought I'd lost Otto forever. And in 2004, my babies were just 4 and 6 and I had absolutely no idea what I was in for with them. (And for the record, I fully expect that in 2016 I'll be able to look back at 2010 and say much the same thing about having no idea.)
The picture frames each have a picture on one side, and then a do-it-yourself handprint on the other.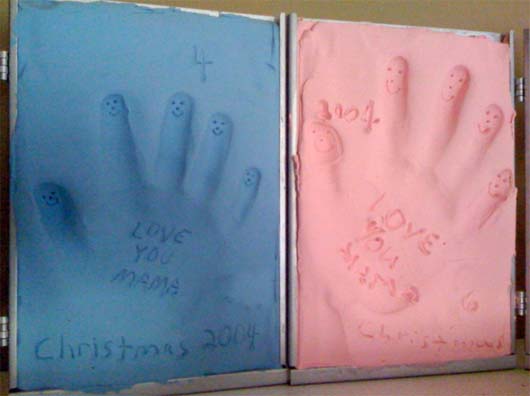 The outlines of their hands seem impossibly small to me, now. The fingertip smiley faces never fail to cheer me up, and even now I melt a little at "LOVE YOU MAMA" in the palm of each hand. They didn't know what they were in for, either. But I suspect that love will see us through.
Happy Love Thursday, everyone. Neither snow, nor sleet, nor mean bus drivers nor IEP debacles shall erase the imprint on my heart of these marvelous humans I'm lucky enough call mine. That's worthy of at least ten fingertip smileys, right?