My children were born a little over eighteen months apart, which means that it has been very easy for most of their lives to treat them similarly. I mean, those early days were the most different, I suppose, when Monkey wanted nothing more than to nurse while Chickadee wanted nothing more than to be read that same book againagainAGAINMAMAAGAIN! But for the most part, they're nearly the same age, right? They've always had the same bedtime. They get the same allowance.
Obviously there are differences: Because they're not the same gender, because they have different classes and different friends and different interests and different personalities. I've never been one of those "I treat both of my children exactly the same" sorts of people, because I think that can only possibly have a prayer of working if both children are, in fact, exactly the same. And they're not.
This year has been, for me, a stark study in divergence. This is where "same" gives way to "different," over and over.
Chickadee is in middle school. Monkey is still in elementary school.
Chickadee is deep in the throes of puberty. Monkey still smells like a damp puppy and has trouble remembering to wear pants.
Chickadee is finding herself, unfolding into a young adult. Monkey is struggling, sometimes faltering, and in many ways regressing.
Suddenly they don't seem very similar at all, to me. Suddenly their differences make my breath catch, make me anxious about the future and protective of the present.
I tried to bring up Valentine's Day about a month ago. Monkey—as I expected—queried as to how much time before the big event, and then let me know that he couldn't possibly think about something that was so far off. Chickadee was quick to inform me that in middle school, MOM, we don't do valentines. Because that's for little kids.
I said okay.
I made a bulk purchase on Amazon of Valentine's Day Fun Dip packets—gross little pouches of sugar powder that come with a licking stick to eat it with.
Here I should admit that I've never bought candy for the various school Valentine's parties the kids have had, before. In fact, I hardly ever buy candy, period. I'm not sure what I was thinking, other than that it was a good deal, and I figured the kids would be pleased.
The candy arrived and both children eyed it suspiciously.
"Why'd you buy ALL THAT CANDY?" asked Monkey.
"Yeah," said Chickadee. "That's not like you. Also, you have a ton of it! Monkey doesn't need all that!" I nodded, thoughtful. "Maybe I could take a few, to give to some of my friends?" she added, hopefully.
"Sure," I said.
This morning I dumped a box out on the table and left it there with a pen, for Monkey. That will be the reminder he needs, this afternoon, to go through his class list and address the packets to his classmates.
Chickadee will remember on her own. Of course.
Maybe I thought Monkey stood a better chance of positive reception if his Valentine's wishes came with sugar. Maybe I realized this may be the last time Chickadee thinks of Valentine's Day merely as a chance to giggle with her friends and eat heart-shaped junk food.
Maybe I just want to see them sitting head to head at the kitchen table, one last time, addressing valentines and discussing which lollipop flavor is the best one.
So many things have changed, but not everything.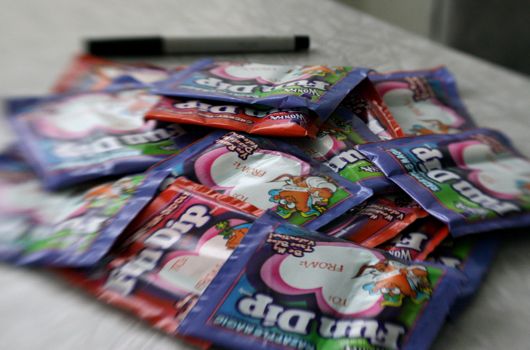 Happy Love Thursday, everyone. Here's to the sweetness of love, in all its ever-morphing forms.