Last night we agreed that you could wake the rest of us up at 7:00, if you liked, and even your sister agreed. You went to bed swearing you would never be able to fall asleep. You did, of course, and I was still enjoying the view from behind my eyelids when you thumped on my door at 6:20 this morning.
"Come in," I called. You bounced in and I threw the covers back and invited you to hop in and cuddle. "What happened to waiting until 7:00?" I asked, whispering, hoping Otto might still be asleep.
"Oh," you said, unbothered. "There's some stuff on my dresser and I couldn't really read my clock. I guess that's why Chickie told me to get out of her room."
I pulled you close under the covers and tried not to laugh. "That's okay," I said. "Happy birthday! Let's just rest a little bit."
For about twenty minutes we dozed… or, at least, I dozed inbetween twitches and bounces from you, and finally I said we should go ahead and get up. We left the bedroom and you glanced at the stairs and then grabbed my arm, full of urgency. "Were they in order?" you asked.
"Were what in order?" I countered. (How many times have I told you that I cannot possibly speak coherently until I've had a cup of coffee, son?)
"The presents!" you said, flinging your arms wide. "Were they in a specific ORDER? Because I didn't see the one at the top of the stairs and I hit it and it hit another one and then I had to try to put a few of them back and I didn't know if they were in order."
Again, I tried not to laugh. As we had done for your sister on her tenth birthday, there was a line of ten presents down the stairs, snaking through the dining room to the kitchen. You had been instructed not to open presents without us, but of course you would assume there was an order to it. If you had been in charge of the packages, there would've been. So I assured you they were in no particular order, and I headed to the kitchen in search of coffee while you gathered up the spoils of double digits to dump at your place at the table.
Otto appeared, and then Chickadee, and then it was time to witness the grand unwrapping. You sang and bounced and chattered as you discovered each new wonder—Lego sets, games, a puzzle, new tools for your toolbox, books—and the three of us sat there with you and smiled back. Your joy was, as always, contagious.
Nine didn't turn out to be that stupendous of a year, Monkey. I'm sorry about that. Oh, there were good parts—new friends, new experiences, and a new dog. Some really awesome things happened this year, to be sure. But this is also the year we'll look back on and talk about quietly. We'll call it The Hard Year, probably, or maybe you'll call it The Year I Didn't Want To Be Different. I have some other names for it, but Otto generally doesn't let me say them in front of anyone under 18.
So nine was hard. But this morning you showed me that nothing, and I mean NOTHING, can stifle the Monkey I've adored for ten years now. Your joy at turning ten, at having your family watch you unwrap presents, at receiving a pile of items that need figuring out and putting together, it outweighs all the crapitude you've endured lately. (No, crapitude is not a word, and you can't say it until you're 14.) You live in the moment—it's your biggest blessing and your biggest hurdle. But when life is good to you, I can't see how anyone could be around you and feel anything other than giddy.
We went and had lunch with your teacher today, a special birthday treat on the last day of vacation. You bounced and chatted and smiled and nibbled and it wasn't until about ten minutes before it was time to go that you said, "I wish I wasn't different."
Without missing a beat she said the same thing I've been telling you: "Different is great."
We talked a little and you snapped back into the moment, into carefree enjoyment of the Right Now, and we adults smiled at you and at each other, enjoying our slice of time with you and your goofiness.
Ten is going to be your year, Monkey. You are you. You used to know that, and embrace it unselfconsciously. Then nine came along and made you doubt yourself. You lost your footing there for a while, but you've got it back.
You are strong. You are joyful. You are different, and that means your path will be different, and it also means sometimes you will wish it wasn't. But different is awesome. And I am so proud of the boy you are right now and the man you will become.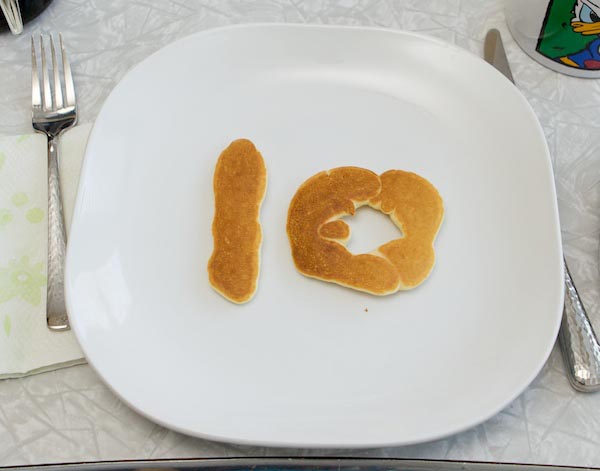 You are ten. You are tremendous. You are my goofy Monkey-boy, my brainiac, my absent-minded professor, and I love you every moment of every day, every inch of you. Different, same, exasperating, gratifying; all of you. Always.
Happy birthday, my sweet Monkey.
Look out, world.