I sometimes bitch and moan about things like teacher gifts, and it is primarily because I'm pretty good at bitching and moaning and not, in fact, because I hate teacher gifts. I actually sort of love doing teacher gifts. I like wrapping up multiple identical gifts. I enjoy layering different kinds of cookies into tins. I always get a smile out of the cards the kids make.
And it makes it feel like Christmas.
That's a very welcome thing, right now, when—trees and lights and all other signs to the contrary—I'm generally not overly full of the holiday spirit.
But my kitchen counter IS full. Of cookies and paper and hot cocoa and bows and buckets and maybe even gratitude.
So I will continue to "fake it 'til I make it," because I know from past experience that the rituals of packing up cookies and wrapping up presents and truly focusing on what kindnesses my family has been shown this year will snap me out of this little funk. If I go through the motions, my emotions will eventually catch up. (They're a little slow.)
Despite my best planning attempts I'll end up getting everything put together well into the wee hours of the night, most likely. I'll fall into bed exhausted, wondering why I didn't start sooner and feeling grateful that I don't have to do THAT again for another year.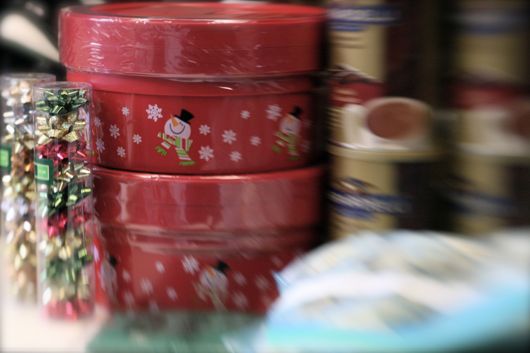 But I'll also feel grateful that we have so many to whom we owe thanks, and a life full enough to hold endless tins of cookies, and rich enough to give them all away with a smile. This year it feels like a lesson I'm sorely in need of, and as I sort and wrap I find myself wanting to put a bow on everything I love, just for a little while, just as a reminder.
I know it's supposed to be gifts for everyone else, but every year I'm always surprised to discover it's a nice little gift to myself.
Happy Love Thursday, everyone. Here—have a cookie.