Tomorrow Otto is having a birthday. His 39th birthday, in fact. My birthday is in the summer, so I happen to love that stretch of time between early December and mid-August when I can pretend he's an entire year older than I am.
We don't have any big plans; life has been a little too hectic lately to plan much, but we'll see what we can do to celebrate the day in style.
In the meantime, as a little pre-birthday warm-up, I thought I'd share 39 Things I Love About Otto in honor of his impending 39th birthday.
1) He puts up with me. (Truly, this should be number 1 through 50,000.)
2) He lets me put my cold feet on him at night.
3) He truly loves what he does, and brings a passion to his work I admire every day.
4) He has the bluest eyes I've ever seen. I'm pretty sure I was a goner the first time I saw those eyes 20+ years ago.
5) He knows how to fix almost anything.
6) He figures out how to fix the things he doesn't already know how to fix.
7) He's incredibly even-tempered.
8) He got me hooked on Deadliest Catch and Mythbusters.
9) But also watches Bridezillas with me. And secretly enjoys it.
10) He's a war geek; I asked him what he wanted to do for his birthday and he immediately said he wants to go to the Cyclorama.
11) He makes popcorn for me whenever I ask. It's not like I don't know how to use the popper, it just tastes better when he makes it.
12) He does very little in his life halfway.
13) Which means that when he decided to marry me, he also decided to consider my children his children.
14) But he walks that line between loving/parenting them and respecting their dad's role in their life better than anyone I know.
15) He snuggles with the dog when he thinks no one's looking.
16) And he loves how much I love her.
17) He makes the same jokes over and over, and never fails to amuse himself.
18) He is the most loyal person I've ever met.
19) He doesn't hold grudges.
20) He wears a tie to work every day, because he feels it shows "respect for the profession." (Uhhh… I wear a bathrobe every day, because… nevermind.)
21) He owns a protractor.
22) And lets Monkey borrow it for his math homework, even though Monkey then leaves it on the table every single time, and then he lets him borrow it again the next time, anyway.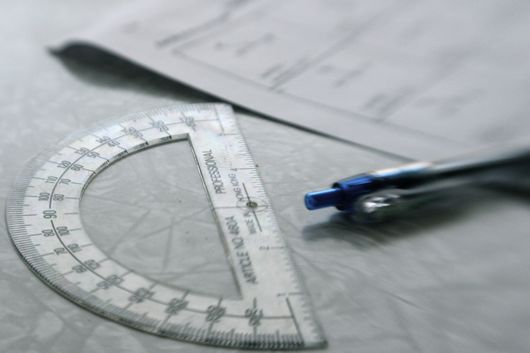 23) He makes pancakes for the kids on Saturdays.
24) Every so often he completely cleans out my car for me, just because.
25) If the weather is at all amenable, he will sit outside to read a book rather than inside.
26) He never tells me he doesn't like something I cooked; he just doesn't have seconds.
27) He often tells me, "I love you a little more right now" when I bake something really good.
28) He insists on picking out birthday gifts for the kids himself, rather than letting me do all the shopping.
29) He does the laundry most of the time.
30) And doesn't even get that mad when I tease him about his sorting methods.
31) And occasionally hangs something of Chickadee's in my closet when putting things away, which rather than making me think he's oblivious never fails to make me feel extra-skinny. Ha.
32) He almost never swears.
33) But he doesn't get all judgy on me when I do.
34) Nor does he hassle me for being a slob in my designated slobby areas (my desk, my bathroom), even though he's much tidier than I am and I'm sure it drives him nuts.
35) At bedtime he always asks me how my day was, even if we spent that whole day together.
36) He takes pictures of the kids at school events.
37) And whenever they wake up with particularly spectacular bedhead.
38) He uses Ivory soap, so rather than thinking he smells like Ivory, whenever I get a whiff of it anywhere I think it smells like him.
39) He tells me I'm his favorite. (And tells the kids they're his favorites. And the dog, too.)
Happy almost-your-birthday, Otto. Thank you for giving me so many reasons to love you.
And happy Love Thursday, everyone. Here's to all the reasons to love your favorites.