Thank you for all of the suggestions regarding delicious baked goods. I'm ten pounds heavier, now, having read the comments, but I appreciate it from the bottom of my straining zipper.
The meeting Wasn't, which is to say that we thought it was scheduled and then it wasn't and then we were left hanging and then I had to send some Very Stern Emails. Now we are rescheduled, which gives me more time to plan. And bake. In the meantime, the OTHER child (surely not wanting to be left out) came home with news of a "uniform violation" which required another Stern Email (the response was priceless, if electronic backpedaling is your thing), and also there's the small matter of a missing project, which is a whole 'nother story and frankly, I felt pulled in ten different directions last week, and this week it feels more like twenty.
Yesterday I had meetings and today I had meetings and I arrived home to a blinking answering machine.
I had (have) a ton of work to do. I'd been out most of the morning, and all I wanted to do was sit down and get caught up. I jabbed the button on the machine and immediately set about getting situated at my desk while it played. The first message was a caller who'd already reached me on my cell. The second, a call back I'd been anticipating. Then came the third.
"Hi, Mom," came Monkey's voice. He sounded small, and so much quieter than usual. My stomach dropped. He's been in trouble so much this year; what would warrant him calling home? "I called to remind you that today is our Thanksgiving lunch. But…" here I heard a small sigh, "I guess you're not there. You probably forgot. Okay. Love you. Bye."
Dead. Killed me DEAD. Because the God's honest truth was that I HAD forgotten. Had I remembered, I would've reminded him in the morning. Probably when the teacher mentioned it, he realized that if I'd remembered, I would've told him. So he was right to call. And he just sounded so… RESIGNED when I wasn't there to answer.
I checked the clock; I still had time to get there. I wouldn't even be late. But as I threw some food into a plastic container and shoved it into my purse, my cheeks burned and my eyes watered. Most of the running around and preoccupation I'm dealing with right now is because of Monkey. It's FOR Monkey. But would any of it matter if I didn't show up? Did any of it matter now when he THOUGHT I wouldn't show up? Why did he even think that?
An assortment of parents lounged in the hallway by the classroom, waiting for the kids to come back from their last class. I chatted with a friend, shifted my purse on my shoulder, and kept peering down the hall.
Finally, he rounded the corner. His whole face lit up and he started bouncing up and down. When he got close enough that he wouldn't be scolded for running, he flung himself at me and squeezed me so tightly I could hardly breathe.
"Monkey," I whispered, as I leaned down to smooth his hair, "why did you think I wouldn't come? I always come, baby. Don't I?"
"Yeah," he said, loosening his grip to tilt his face up to mine. "You do, but I was just worried."
"Sometimes we need to worry less and remember more, huh?" I asked him. He nodded, then skipped off to grab his lunch box. I tried not to think of what his day might've been like if I'd not been reminded to show up… and thought about how much of the time I spend fighting on his behalf probably just looks to him like time spent doing Something Else.
I had lunch in the cafeteria with my son and his friends, and although we two ate food packed at home, one of his friends was kind enough to let me photograph the remains of his traditional Thanksgiving feast: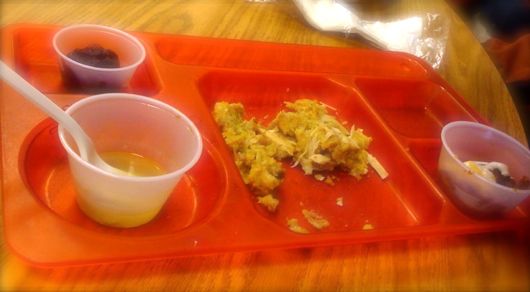 "I wish you could have lunch with me EVERY day," sighed Monkey, leaning on my arm and happily working his way around an apple.
"Me too, sweetie," I told him. And do you know what? It felt exactly like Thanksgiving.
Happy Love Thursday, everyone. Here's to getting the message before it's too late.