I haven't slept in about a week.
That's an exaggeration, of course; I've slept, but not well, and not for long.
There's a kind of worry that gets into my brain that makes it hard for me to compartmentalize and move around it. That worry is almost always something related to the kids; I get stuck in an endless mental loop of "But if A, then B. And if B, then C. And if C, OHMYGOD, D-Z! We're all DOOMED!"
It's not particularly productive or helpful. But I haven't figured out how to circumvent it, yet. It leaves me with two choices: Accomplish nothing, so I am free to worry all day, or still accomplish stuff, but then lay awake at night catching up on worrying.
This week has been full of Option B. And coffee.
So I am still stressed, and still worried, and we still have lots and lots of "what if"s in front of us and I still have one very marvelous little boy here who seems to me to have more than his fair share of YUCK to deal with in this lifetime.
I get through a lot of my "stuff" by writing.
Monkey gets through his by drawing.
It's not that I think he's a particularly gifted artist, it's that he amazes me in his ability to create without stopping, and usually with some fantastically complicated story attached. Monkey draws a lot of monsters. All kinds of monsters. Some are evil and some are kind but misunderstood. Some aren't sure, yet, which they are. Some are silly and some are sneaky.
Some of them cry. And some have smiley faces.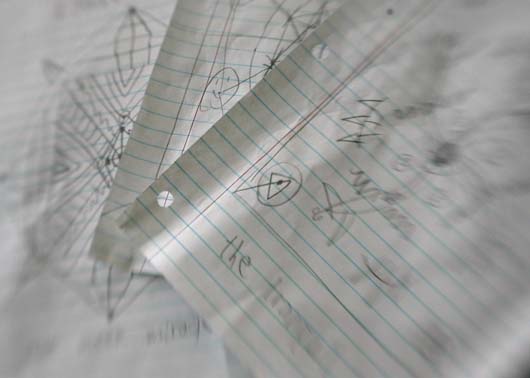 I'll be honest; a lot of the time, it's like hieroglyphics to me. "Do you see his bionic arm, over there?" he'll ask me. And I'll squint and turn the paper and try to see it. I just don't get it, a lot of the time. But I'm trying. So hard. Just like he's trying.
We're on a long road, my boy and I, towards making it all okay. But sometimes I look at his drawings, and I glimpse okay in there. Because I know he does, too. Not the blithe assurances we adults like to hand out, but an acceptance of the good and the bad and nevertheless, unwavering joy in the moments that are perfect. And then it all makes sense.
What would I do without him, to show me?
Happy Love Thursday, everyone.