So we were supposed to go on our last big camping trip this weekend, and we shopped and packed and measured out dog food and loaded up the camper and then I spiked a fever.
Because I am nothing if not able to ruin everyone's plans without breaking a sweat. (Actually, I'm totally lying. The fever, you know… I was a little sweaty.)
Rather than TRULY ruin everything for everyone else, I assured the family that it was okay if they went without me. Because everyone had been so looking forward to it, and there was no reason for everyone to stay home just because I was feeling crummy. The kids were a little too quick to agree, and even went so far as to insist that Licorice was also really looking forward to camping!
So the whole lot of them left. It is VERY quiet here.
I'd probably enjoy the peace and quiet more if I didn't have this persistent fork-in-the-brain level headache, and if I could stay away for more than twenty minutes at a time. But whatever.
(In other words, I really miss my dog family. Also, my head hurts.)
Fortunately, my husband (who, yes, just to be clear, drove off with his two stepkids and a dog into the wilderness, ON PURPOSE) has been kind enough to send me a few photos to ease any worries I might have about how they're getting along.
Like, first he mailed me yesterday when they arrived to report that the campground was terrible and they weren't going to have any fun at all.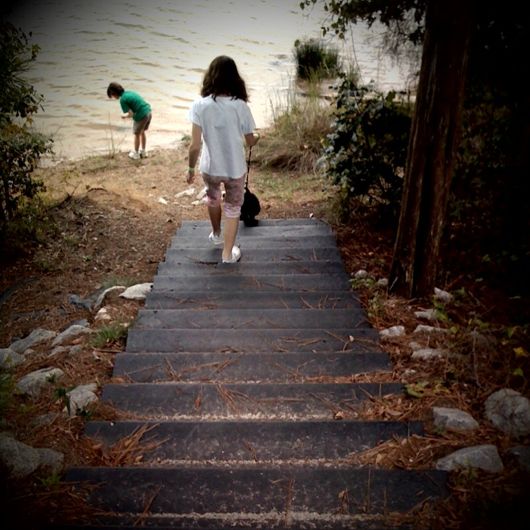 And then today he wanted to tell me that they'd met up with friends who have a boat, and Monkey dreams of starring in "Titanic" someday…
… while the girls are favoring a more relaxed approach to aquatic adventure.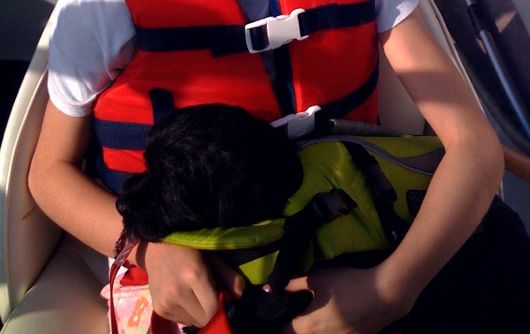 (I cannot believe I'm stuck here at home while my dog is wearing an adorable little canine lifevest. HMPH.)