I had a small breakdown, last week. Not a big one. Nothing dramatic, I don't think, nor dangerous or even particularly noteworthy to anyone except ME. To me it was clear that the Mir Pressure Release System had malfunctioned somewhere along the line, allowing stress to build to Code Red levels and ultimately result in Unhealthy Things.
Sooooooo I blew up at one two all of the members of my family, had a few good cries, spent many a late night wrestling with my old pal, insomnia, and then got over it. Kind of.
Over it enough to keep on keepin' on, as we say, in any event. I may have something of a meltdown hangover, now. (It's sort of throbby and achy but ultimately more annoying than concerning.)
I hope to look back on this time and laugh, someday. Alternatively, I hope to have my memory wiped. Either way.
Matters are not helped by the fact that we've had a LOT of rain this season, like, unseasonable monsoons of never-ending rain, and it's hard to stay calm and rational and happy while you're sprouting gills. But over the weekend we had a brief spurt of gorgeous weather—clear, warm, just a slight, refreshing breeze. It was incredible.
So I ditched everything I was supposed to be doing and went outside with a book and a dog. (My dog. Not some random dog.) I set up one of our lounging chairs (doesn't that sound fancy? Like, as if it's something other than a plastic chair from Big Lots that happens to have a slide-out foot rest?) and opened up the umbrella recently rescued from the pool and plunked myself down, poolside.
Licorice and I did not get up again until I'd finished my book.
When I turned the last page, I tilted my head back and closed my eyes, at which point I promptly fell asleep. I woke up when Licorice hopped down from the chair to pant up at me from the concrete, and after obliging her with a head pat I looked up.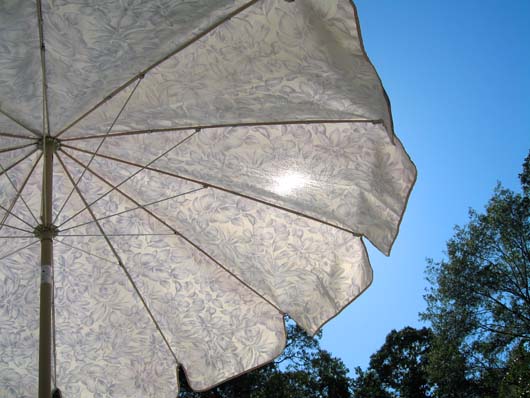 When I'd opened the umbrella, earlier, the sun was shining through the left-hand side of it. I'd been out so long, the sun had moved from one side to the other, though I was still safely in the shade. My vantage point was interesting; the sun's reflection off the pool water made a rippling effect on the underside of the umbrella (which I couldn't capture withe camera), mimicking movement, while the edges of the umbrella flapped in the breeze. The sky was such a beautiful color—and so cloudless—that I craned my neck to look for clouds beyond my immediate view, but there were none. Still, from where I was sitting, most of the sky was hidden from me. And it was still magnificent.
I sat with it for a few minutes more, then got up and got back to my life.
Happy Love Thursday, everyone. A few minutes, a few unexpected glimpses… sometimes that's all it takes.