Despite our continued efforts, Super remains at large. He continues to lounge around the neighborhood, and apparently slept on our lawn last night, though he was gone when I went out this morning around 6:00.
He is taunting us.
The combination of the kids being back to school, this dog being on the loose, Otto being back to work, and the various responsibilities on my plate of late has had a less-than-healthy effect on me. I'm exhausted. I'm lucky to keep my eyes open until 10:00 each night, and the rest of the time I seem to be late for everything. Late starting dinner so that we can eat at a reasonable time. Late turning work in. Late getting lunches packed and children out the door on time.
I'm starting to get that familiar overwhelmed feeling, and it's overshadowing everything else.
When I sat down at the computer this morning and realized that 1) I hadn't blogged yesterday and 2) today is Thursday, my heart sank. I don't like to go two days without posting, but I wasn't exactly feeling the love, either, to do a Love Thursday offering. I went over to Karen's blog for inspiration, and found her talking about beauty.
Well. I'm not feeling all that beautiful, lately, either. Hmph.
But then I remembered that last night, my mother emailed me an old picture of my grandparents.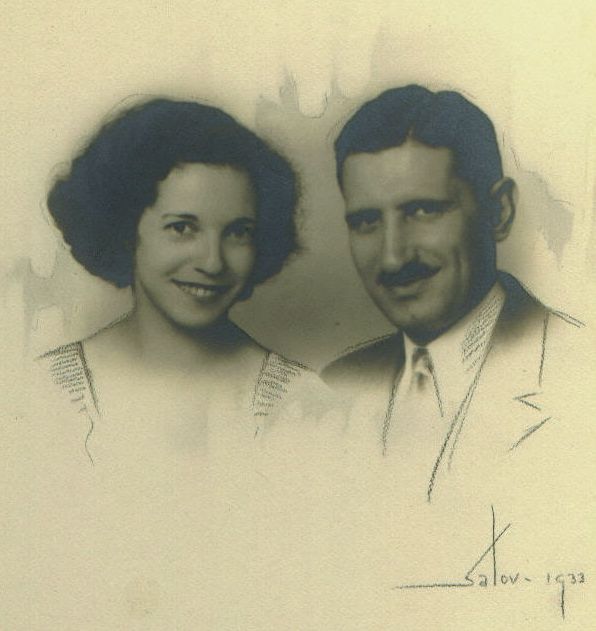 These are my father's parents, Rose and Sam. My mother had sent it along saying that she thought my resemblance to my Grandma Rose was uncanny, particularly considering that folks usually tell me I look like my mom (the other side of the family). I think she's right; the resemblance is unbelievable, particularly if you compare it side-by-side to a photo of me at roughly the same angle.
I called my dad this morning to ask him more about the photo. It's my grandparents' wedding picture, taken in 1933. My Grandma Rose was 21, my Grandpa Sam 26. I think my grandmother looks beautiful, here—young and fresh and about 14. I of course have no memory of her ever looking anything like this. By the time I remember her, she is, in my mind's eye, already old, gray; short and round and somewhat fuzzy, like a peach. Her wrinkled face was covered in downy hair, and when she kissed me her cheeks and chin were impossibly soft because of it. I never thought she was unattractive, but neither did I ever imagine her to once look young and pretty like this, either.
And even with the photos side by side, I don't imagine myself as pretty, even as I have to admit my face reflects hers.
What I think of, though, when I think of my grandmother, was her standard two questions: Are you eating enough? (I was not, according to her, no matter how much I protested. I was always "too skinny," hence the question.) And then, once the matter of nutrition had been addressed: Are you happy?
If I answered "Yes," to the latter, she would nod and smile. "That's all that matters, then," she would respond, as if that settled all open issues.
Sometimes I wish that my Grandma Rose could've met my kids. She would've delighted in Monkey's affections and had a soft spot for Chickadee's mini-me-ness, and—I'm certain—would've grilled me as to whether their skinny little butts are getting enough food. And then she would ask me if they were happy, and if I am happy, and I would tell her I think that we are, and she would smile and remind me that that's all that matters.
And she would be right. And beautiful.
Happy Love Thursday, everyone. Today I'm going to work on disentangling myself from the stuff that matters less, and focus on the stuff that matters more.