Yesterday was… kind of a long day. To put it mildly.
As I've mentioned before, both kids are going to new schools this year—Chickadee is moving on to middle school, and Monkey was redistricted out of our beloved little elementary school. Yesterday we had meetings and orientation, and somehow the entire afternoon became an exercise in getting crushed in crowds at one school, then repeating at the second school, and then going back to the first school to do it all again.
Sixth grade orientation took TWO HOURS, and by the end of that time we still hadn't met all of Chickie's teachers. But she made a name placard to put in her locker and got a soggy ice cream sandwich, so I guess that's all we needed.
By the time we were at the end of our Parade of School Visits, Monkey had pretty much had it, Chickadee was pouting and whining, and I have to admit, it was a good way to make sure I was looking forward to seeing them off this morning. Ahem.
We came home and regrouped and had dinner and I took lunch requests and everyone went to bed early.
This morning I got up at o'dark thirty and made my coffee and packed lunches with encouraging little notes written on the napkins, and then I baked cinnamon rolls and blended smoothies for breakfast. I twirled Monkey into a little waltz around the kitchen when he came squeaking down the stairs in his brand! new! sneakers! and complimented his excellent job of brushing his hair and his nice shirt. I got him settled with breakfast and went up to check on Chickadee and came back down and went through some email while Otto chatted with Monkey, and then once Chickadee was out of the shower and dressed we forced them outside for pictures, because that's the kind of horrible, mean, obnoxious parents we are.
A lot of things are different this year; as much as I feel like Chickadee has changed more this summer than perhaps any other time in her life (excluding the first year, when your kid seems magically different and bigger every week), the just-one-year-older neighbor girl walked out for the bus this morning looking about 17. The transition from big fish in a little pond to tiny fish in a pond where it's hard to tell some of the students from the teachers is a terrifying one.
And although we've done everything we can to acclimate Monkey to the new school beforehand, he is not only dealing with the loss of his old environment, he's now getting to the point where he's "one of the big kids" and will be expected to behave accordingly. And none of us quite know, yet, if he can do that.
The kids got new bus numbers to memorize. But we're close enough to walk to Monkey's school, really, and so we've decided to compromise; we'll walk in the morning, and he can take the bus back in the afternoon. This morning we walked along, holding hands, talking about how soon we'll have a dog to take along on our morning trek, and how when it gets a little bit cooler, maybe we can ride our bikes, and wow, look at all of those dead bugs over there, I bet you don't see THAT when you ride the bus. The opportunity to give my son 15 minutes of my undivided attention (along with some much-needed repetitive movement) to start his day is a little unexpected gift in this whole school-change thing.
Chickadee will take the bus or maybe Otto will drive her, normally, but this morning after I walked back from dropping Monkey, we all piled into the car and headed in to drop her off for the first day. We inched along, as we turned into the school driveway, caught in the traffic of parents all doing what we were doing.
"Okay, start the long goodbye!" called out Otto, as we were still a dozen cars back from where we could let Chickadee out.
"Mah BAYBEEEEEE!" I wailed, throwing my hands in the air for emphasis.
"Oh my GOD," Chickadee groaned, rolling her eyes at me and suddenly seeming yes, exactly old enough to go to middle school and tell all of her friends what a dork her mother is.
I turned around and grinned at her. "Have a great first day, sweetie. It's going to be FINE." She tried to return my smile, but wasn't very successful. "It's okay to be a little nervous," I added. "Everyone else is, too. But you're going to love it." Now she did smile, a little.
We said our goodbyes and our "I love you"s and then she was gone, walking up to the door behind a kid who was two heads taller than her, making her look extra tiny and vulnerable.
When we took pictures, earlier, Chickadee had exclaimed, "Why do you always take pictures of our SHOES?" And I tried to explain that it's the new shoes that scream "FIRST DAY OF SCHOOL" to me. They're never so bright and white again. No matter where they go to school or what grade they're in, there are always new shoes on the first day.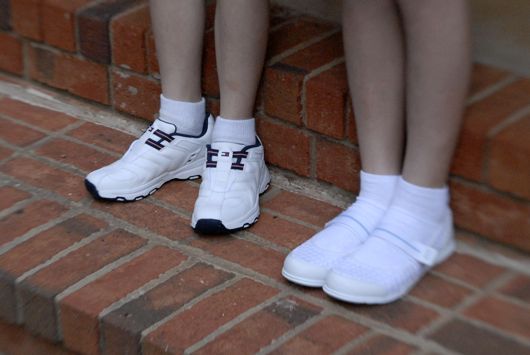 New shoes look like hope, to me. I look at them and the feet that jiggle and bounce with nervousness inside of them, and know that in no time at all I will blink and the shoes will be falling apart and their owners will be in a groove and have totally forgotten about this day when they started over, full of worried anticipation.
Happy Love Thursday, everyone. Here's to both the new shoes of life, and the process of breaking them in and getting them dirty.