I've been thinking a lot about the conversation with my daughter that I wrote about yesterday. I've been fixated on this notion of making your own happiness, because—let's face it—for a lot of years I wasn't a particularly happy person. It took me a long time to figure it out, and it's not a linear exercise by any means. I still have setbacks. I still have times when I feel like happiness is something beyond my grasp, and not for lack of trying.
Still, I believe in this. I believe in being agents of our own destiny. I believe I started finding happiness when I stopped looking for A Big Grand Sign. Happiness became palpable, for me, when I figured out how to feel grateful. And I'm not even talking about being grateful for a roof over my head or my family. I mean it started with being grateful for just enough coffee left for my morning cup. Or for a stranger holding the door. And then I started seeing bad-made-into-good all around me.
As much as I hate the "making lemonade out of lemons" saying, that's really the type of thing I mean. And it starts small.
I returned from my trip happy to be home, happy to be with the people I love best, happy to realize that I'm at a place in my life where I am—for the most part—comfortable being me.
Last night Otto was out, and I puttered amongst my plants while the children swam and splashed in the pool. Upon beholding a giant basket of tomatoes I'd picked, Monkey declared that we're like "old-time pioneer people!" And Chickadee added that I'm turning all "farm-y." I looked down at my haul, and my pollen-covered arms and legs, and thought to myself that I could do worse than to be farm-y. (Though, really, to make that declaration from a chlorinated pool was an irony I decided it was fruitless to point out….)
Then they asked what I'll make from the tomatoes, and I told them I'm not sure. "I'll think of something," I said, waving my hand and heading back to pick green beans.
I wonder, sometimes, if they'll look back and remember the times when everything overwhelmed me and every setback felt like a prison sentence. They were very small. Hopefully what they'll remember is this; the times when life was mundane, perhaps, but full.
And also that when you're happy, there's always good to be found.
Like, turning this…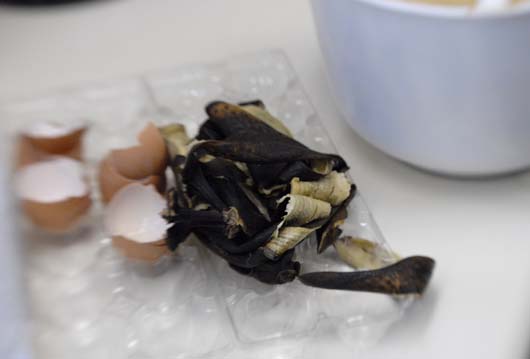 … into this: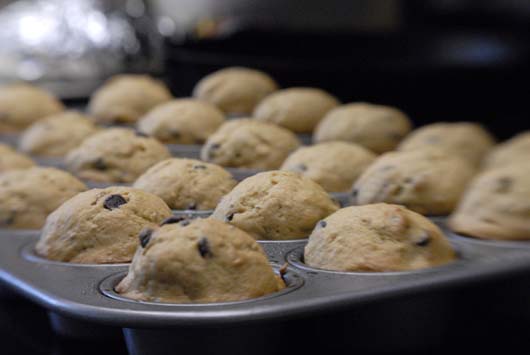 When I tuck those babies into lunch boxes in the coming weeks, I won't be thinking about gross-looking black bananas. I'll be thinking about how easy it is, sometimes, to make a little something awesome out of what might look awful to someone else.
Happy Love Thursday, everyone. Make your own happiness. Start small. And with chocolate chips, if you need.