Otto and I have endless discussions about being A Visual Person vs. not being A Visual Person. Otto is visual. He sees things that I don't. He remembers how to get somewhere if he's been there once before, and can point out all of the relevant landmarks.
I am most definitely NOT visual. Vision is perhaps my weakest sense, both literally and figuratively. I'm moved by sounds, scents, and most especially feel. I can identify something I last smelled years ago, or one of my children by the curve of the hand snaking around my chair to tickle me, but how things look is not much of a cue in my world.
(Unless we're talking about pretty shoes. That's a different paradigm, intrinsically linked to the double-X chromosome set, I guess.)
Anyway, I find myself meditating on hair a lot these days. How it looks, how it feels, and whether it has to MEAN something.
Monkey's hair has been short for months, now, and he's decided to grow it long again. I've gotten a lot of, erm, "feedback" over the years on my son's hair. I would prefer he keep it short, I guess, but I don't care enough to make it an issue. If he cares, and he wants it long, what do I gain by arguing or forcing him? Nothing. Nothing I want, anyway. I am not a terribly permissive parent. I'm working on saying "yes" more often. And if we're talking hair, do I really NEED to say no? I don't think so.
So he's growing it out again. And every morning he bounces down the stairs and comes to see me in my office, and then goes off to enjoy a bit of television while he finishes waking up. As his hair grows, the bedhead becomes more and more impressive. I try not to laugh at him, but it's getting harder. Of course, then he comes and curls up in my lap and that soft, wavy hair presses into my face and neck and I breathe in Essence Of Monkey—a fine blend of sweet and slightly salty, not unlike a puppy who's been caught devouring a bag of Pixie Sticks—and I marvel at the softness of his locks versus the all-knees-and-elbows pointedness of the rest of him.
I let him wait to brush his hair until lunch, sometimes, because it doesn't feel the same when I walk past and tousle it, after it's been brushed into submission.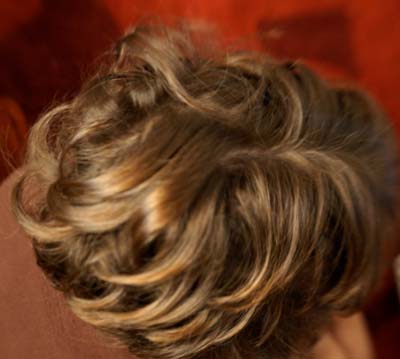 * * * * *
So I posted to Facebook that we'd streaked Chickadee's hair and dyed it with Kool-Aid, and got several comments about what a "cool mom" I am. They made me laugh. I am so NOT a cool mom, but again, do I really care if she wants to do something with her hair? I don't. She's experimenting, and I'm happy to aid and abet rather than having her either make a giant mess (and possibly damage her hair) or choose grander ways to rebel.
Chickadee's hair is currently undergoing a bit of a puberty transformation. My hair, of course, is curly beyond measure, and I've always wondered at the relative straightness of the kids' hair. Chickie's hair has been getting wavier, and wavier, and looks like it may indeed go ahead and curl right up, pretty soon. So she plays; one day she asks me to help her encourage the curl, the next, she asks me to flat-iron it. I oblige. And when she asks for the orange streak, I oblige then, too.
I don't so much see how it looks, which is perhaps why the streak is unremarkable to me. I know how it feels when she rests her head on my shoulder. I know the tickle of flyaway cornsilk strands as they reach my nose when she hugs me. I know that she will brush it out completely straight, while wet, and it will slowly dry and curl up and be at its softest for covert nuzzling when it's almost (but not completely) dry. And I know that now, her head smells like tropical fruit.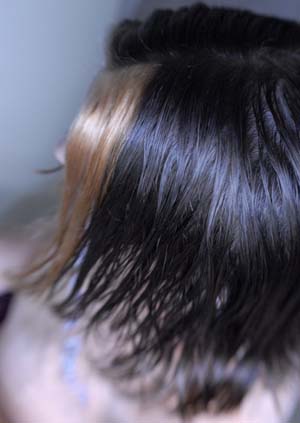 * * * * *
Happy Love Thursday, everyone. What are the free spirits around you wanting to do these days? Maybe it's time to close your eyes and find out.