Today marks the beginning of an auspicious event: Our first big tow. At this very moment, I am in the passenger seat of our truck, tapping away on my netbook (and its infuriatingly teeny tiny keys), while Otto steers us northward towards the kids and our first Big Camping Trip. By next week—after doing the requisite family rounds, like spending some time with Otto's mom now that she's post-transplant—we'll be hanging out at Lake Placid and telling my darlings to please just stop touching each other.
I feel compelled to point out, here, that I grew up AND went to college in New York, and I've never been to Lake Placid. I realize how pitiful that is, yes.
I've never done a lot of traveling, is my point, and yet Otto is nothing if not the consummate wanderer. Because I trust him, I've agreed to load up this monstrosity with everything we might need (just now, after a bit of a swerve he remarked was due to a wind gust: "We're basically towing around a garage behind us, you know") and go wherever he takes us. Because it's sure to be an adventure.
The thing is, I'm a homebody. Part of the reason I can deal with the camper is because it's more of a home, to me, than just living in a tent for a few days. But the other part of the reason I can do it—and, indeed, go wherever we end up—is because Otto is my home now.
When I first came to Georgia to see him, that first weekend after we'd decided to try this again, and he'd bought me a plane ticket so that I could see if I might like living down here, Otto met me at the airport with flowers. That was sweet, but he was in full-fledged suck-up mode so I wasn't all that surprised.
Every time since then that he's picked me up from the airport, though, he's brought me flowers. Always. Even last week, when I hadn't been gone that long and we knew we were headed back out of town in a few days.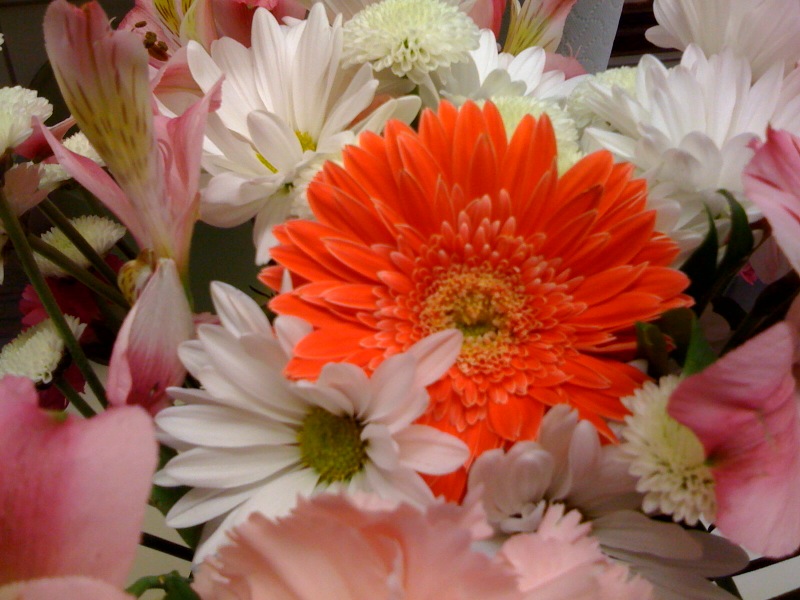 "You don't have to bring me flowers every time, you know," I teased him, because I am not very good at just saying "thank you" like a normal person. "We're going to leave before they die, it seems like a waste."
"I just like to buy you flowers when you come home to me, okay? Say thank you."
"Thank you!" I responded.
This morning I took them out to the compost pile even though they're just at their peak; that seemed kinder than leaving them to wilt and shed and die and become out housesitter's problem. They sure are pretty, though, huh?
We got on the road and I plugged in the AC/DC power converter for my computer and promptly blew a fuse. And the same man who brings me flowers said, "That's okay, we'll stop and get a new one," and drove directly to the big box store he hates the most to get a replacement (before I even had time to freak out about it).
We'll be home on the road, and home where we're headed, and it's both surprising and yet totally normal.
Happy Love Thursday, everyone. I hope you're home, too, or that you soon will be.