It's become something of a joke with me that if I'm feeling particularly overwhelmed by life or work or some combination thereof, you'll find me in the kitchen covered in flour. I have always loved to cook; it's only in the last few years that I've really embraced baking. And only in the last year that I've learned about the Miracle of Bread.
Owing to a few particularly traumatic pie crust experiences in my younger days, somehow I had assumed that anything more complicated than cookies or muffins would be beyond my abilities. But then, one day, well… there was beer cheese bread. And oh my lord, it was SO GOOD.
Thus began the slippery slide.
I mean, beer cheese bread is hardly for everyday. I still make that to go with soup. Or when we're having company. Or when we have beer. Okay, I make it a LOT, but it wasn't long before I was branching out.
I tried some other recipes. And then I started making bread fairly regularly. If a meal included fresh bread, well, it was the Great Family Unifier. Praise was heaped upon me by children AND spouse, and as we all know, I've never met a carb I didn't like—so it was truly a win/win kind of thing.
About a month ago, various circumstances converged and I started getting really stressed out. I mean, even for me. The overwhelm was mounting, and I was beating it back bit by bit, but I was losing. I started looking for ways to soothe myself (other than watching terrible television, which is often my drug of choice). I started up the garden, which we all know is one of my favorite ways to commune with forces much calmer than my natural disposition. And I started baking more.
While I've always loved the relative Zen of working with dough—the methodical kneading, the forced periods of waiting between rises—as I tried different recipes I began to appreciate the magic of the process. It doesn't matter how many loaves I make; the way even the most inauspicious lump puffs up into fluffy goodness amazes me each and every time.
I also started getting a lot better/faster at it, and last week I was powerless to stop the words that I found issuing from my mouth: "Hey, you know what? I should just stop buying sandwich bread."
And that's a great idea, you know, because the two bucks a loaf I'm saving (between the cost of my supplies vs. the organic, fructose-syrup free loaves I shell out for at the store) is TOTALLY WORTH the hour of time I end up spending mixing, kneading, etc. Right? Ummmmm….
Yeah. It's not saving me any money in the long run; if you compare it to what I charge my clients, it's a ludicrous WASTE of money, actually.
But.
I know what's in our food, because I put it there.
It tastes so much better than the stuff from the store.
It forces me to walk away from the computer.
It gives me time to just THINK instead of always being in "work" mode.
It makes me feel powerful. No, not like Wonder Woman powerful… but "I can make food from not-food" powerful. I turn powders and liquids into actual food. It's like ALCHEMY. It's something our ancestors did with little thought, and something that too many of us think doesn't apply to modern life. It does. It should, anyway.
When I pack lunches for my family, now, it feels like a private love note to each of them. They may not know or care, but I do.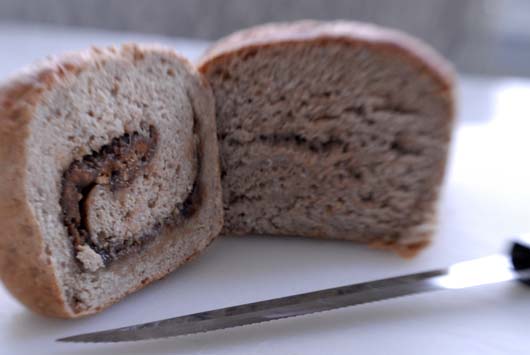 (Hearty oatmeal peanut butter and jelly bread—or in our case, sunbutter and jam bread—recipe from Flour Girl, shown both swirled as directed and made without the PB&J.)
Besides, EVERYONE knows that bread you bake yourself doesn't have any calories. I'm sure I read that somewhere.
Happy Love Thursday, everyone. Get back to basics, this week, even in just one tiny corner of your life. I bet you'll be glad you did.