I've been thinking a lot, the last couple of weeks, about histories and futures and—most of all—the gift of the present. I still struggle every day with appreciating that last one as much as I ought to, which is pretty ironic given that I'm not not one to cling to history, either, and oftentimes thinking about the future causes me to have palpitations.
I don't like unknowns. I like knowing what IS and what WILL BE and learning from what WAS and then moving on. You know, to the safety of what IS. Heh. Though it can be hard to fully EXPERIENCE what is when one is busy INVENTORYING it. Not that I would know anything about that. Ahem.
The emotion behind the responses to my wedding dress dilemma surprised me. I thank you all (well, okay, those of you who weren't rude about it) for taking the time to share your points of view and explain to me what I may be missing. And it's true, I am (was) missing some stuff, and I'm working on that.
About a week and a half ago, we had an overnight freeze here. It's a freak kind of thing; not unheard of for this time of year, no, but certainly not the norm. And after all that time I spent gleefully sharing every tiny sprout in my garden with you (complete with all of that awesome educational commentary about how "it's a bean! maybe! wait, maybe it's spinach!"), I could not bring myself to report that despite three tarps, one oversize bucket, and several dozen bricks all artfully arranged… all of my tomatoes and peppers and basil plants died.
I went out later that morning after it had warmed up, and uncovered the boxes. Every pepper plant lay curled over onto itself, brown and stringy. My majestic tomato plants—three of the five of them which had already been flowering—listed to the side while their brown leaves stuck, gummy, to their cages. The basil splayed outward, the deepest and most shocking brown, as if it had been rotting for weeks instead of a mere few hours.
The good news is that all of the stuff we planted from seed was unbothered. The beans, cucumbers, zucchini, squash, spinach… they couldn't care less about the cold. They laugh in the face of cold! But all of the plants I'd actually, you know SPENT MONEY ON were gone.
And I was really upset about it. Partly because of the money, sure, because I'm a tightwad and I'd sprung for the organic peppers and whatever, but also because I felt like I'd spent a lot of time and energy for nothing. But if I'm being honest, it was mostly that it was completely out of my control and "not supposed to happen that way" and I maybe have just a wee tiny bit of PTSD when it comes to stuff like that.
So, yeah. I was more upset about it than was logical. Considering that it's just a bunch of plants.
I wanted to rip them all out that afternoon, but Otto convinced me to just leave them for a bit. "Maybe they'll come back," he said. "Just leave them for a bit."
I made fun of him for thinking that. Because the plants were clearer deader than dead and what did he know, anyway? But I agreed to leave them.
A couple of days later I went and carefully trimmed back a layer of dead leaves and stalks, wherever the edges were getting crispy in the sun. The next day, I did it again.
The third time I trimmed, I thought, "Well now, this is going to be just lovely. An entire garden box full of NAKED STALKS." But I tried to pretend I thought it was going to work. The main stems of all the plants except the basil remained—impossibly!—green, so I tried to think positive. Failing that, I promised myself that whatever was still clearly dead by THIS weekend, I would replace on Saturday.
Maybe it was Easter, maybe it was luck, maybe it's not unusual at all, I have no idea, but all I'm going out to buy on Saturday is basil (which is well and truly dead, RIP). Everything else has rallied.
I am amazed.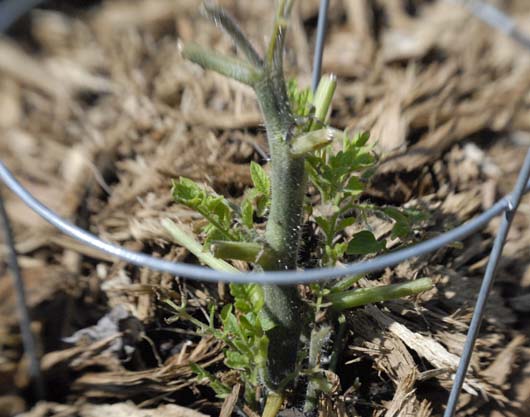 The Romas have proved the heartiest; the first one was, to quote Billy Crystal from The Princess Bride, only mostly dead to begin with, but this one I really thought was dead. The first one now looks like nothing ever happened to it, and this one, well, That's all new growth right there.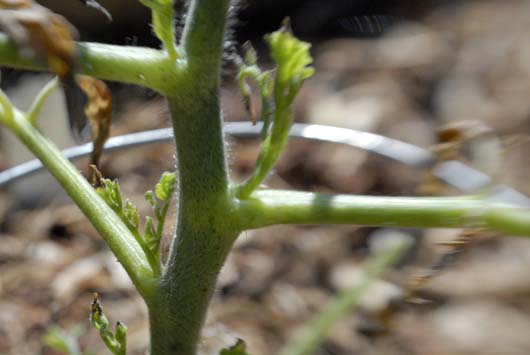 The Golden Jubilees were slower, but this one has a bunch of new growth, too.
As does this one.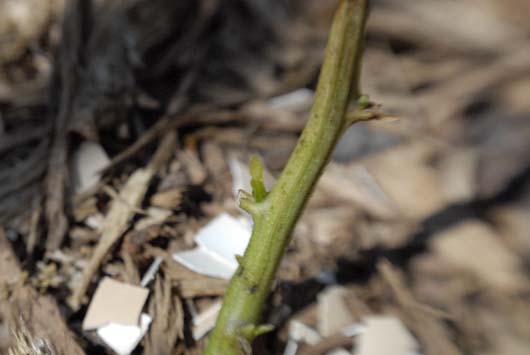 I know it's hard to see, but this is one of the California Wonder Peppers (which I'd trimmed back to a naked stalk), and it has MAGICALLY sprouted a bunch of leaf buds which are now uncurling.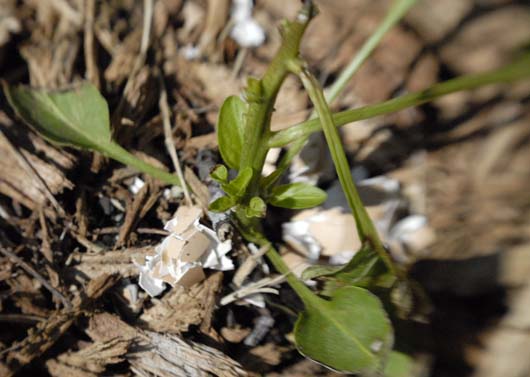 And I left a couple of scraggly leaves on this banana pepper plant and NOW look at it.
I know our harvest will easily be set back a month, by this. And I could go ahead and replace the plants, anyway, with ones bigger and heartier, but I'm just so delighted by the sheer tenacity at work, here. And I'm sure there's a pointed life lesson in there, somewhere, about my wanting to rip them out and Otto urging me to wait, but, hey, details. It's a 2′ x 10′ box of miracles, right here in my yard. I'll take it. And enjoy it.
Happy Love Thursday, everyone. Here's to all the rebirths we can muster.
(And just for you, Karen: Today I have a theme song! It's Patience by Catie Curtis.)