Chickadee was away for a few days this week on a school trip; some extremely brave school personnel took a gaggle of 10- and 11-year-olds into the woods and lived with them there. On purpose.
Due to the whole divorce and visitation thing, I'm accustomed to the kids going away for a few days every so often. I don't freak out about it or anything. I missed her while she was gone, and the house was quieter, and Monkey very much enjoyed his all-too-brief stint as an only child, but it was okay. All good. Though by today I was itching to have her home.
I picked her up this afternoon and I am not exaggerating when I tell you that describing her joyful demeanor as "mean as a snake" is putting it kindly. Some people do okay with sleep deprivation, and my daughter is not one of them. So she was crabby and snappy and churlish. Nice to see you, too!
After the contents of her pack were dumped in the washer, and the contents of a large plate of food was dumped into HER, I did get to hear a little bit about the trip—they stayed up late playing "truth or dare" in the cabin at night. During pond ecology they went right in the pond and got all muddy. Their idea of "vegetarian diet" was to give her a veggie burger or tell her to "eat around the meat." (Nice!) She would be happy and excited in telling about something, and then moments later on the verge of tears about something else.
I suggested she go lay down in her bed until dinner.
She indignantly insisted that she WAS. NOT. TIRED.
(I tried not to laugh.) (I failed.)
A compromise was struck: She could go lay down in the family room and read for a while. That, at least, would be calm and relaxing.
Five minutes later I heard snoring, so I peeked.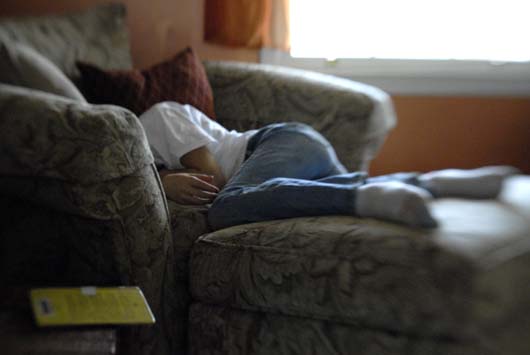 In a little while I'll wake her up for dinner, and we'll all be together again for evening. I daresay we'll all sleep a little better tonight, too.