I honestly don't remember how or when it started, but I know that it was not too long after I began blogging, so about five years ago.
Somehow, Kira and I found each other. We read each other's blogs, we emailed, and—eventually—started chatting via Instant Messenger. Every night.
There I was on the East coast, and Kira in Colorado. By the time she would get her boys into bed, I'd be thinking about going to sleep, myself. But she'd appear online and I'd vow to just chat with her for a few minutes, and three hours later—stomach sore from laughing or crying or (often) both—I would tell her I had to get to sleep.
I'd been divorced a year, and had two small children. She'd been on her own with her three boys for longer—a veteran, you might say. There were days when she was pretty much the only thing standing between me and a nervous breakdown.
I went back into my archives to look for the first time I'd mentioned her, here. Funnily enough, the first instance is from June of 2004, back when I used to do something I called Friday Facts and Fiction. She'd brought this up:
Kira asks: Do I think I'll date/marry again?

What are you talking about? I'm already married. To Brad Pitt. Bitch. (Fiction!!)

Well that's the proverbial $64,000 question, isn't it? I'm a very social person. Despite what you might find me saying on my down days, I figure it's pretty much impossible that I will never date again. Never is a long time. So yeah, I'll date. Get married again? Hmmmm. I dunno. I would like to, but I don't know that it's in the cards for me. I'm still a little too raw from the last couple of years' events to consider a risk of that magnitude, again. (Truth.)
It was funny that she'd brought that up for a public post, because sometimes it felt like that was all we ever talked about. Not remarrying, per se, but wondering/prophesying about what the future held for us and our children.
I would say that no one would want to take on a single mom to two high-needs kids who spent so much time at the unemployment office. She would counter that no one would want a homeschooling mother of three who'd moved back in with her parents. And then we'd talk for hours about how we would find our happiness without mates, because we were good enough and smart enough and after all, there were cookies to be baked and eaten. Or something.
Three years ago, Kira got married again, and despite my protective and paranoid need to ferret out anything that might render her new beloved unworthy of her, I have to admit that Clay is as close to superhero as one hopes to see in this mortal coil.
I wasn't able to be there when they wed, but when we talked, beforehand, Kira said, "Can you believe that this is even happening?" I told her that I always knew this day would come.
And then when I got married two years ago, Kira couldn't be here; but we talked beforehand, and I said, "Can you believe that this is even happening??" And she told me that she'd always known that it would.
We no longer spend hours on Instant Messenger every night, because I'm guessing our husbands might find that odd. And it hasn't been ALL flowers and sunshine—she is still one of the first people I turn to when I'm having a hard time, and she's come to me, too, when there are bumps in the road—but our lives are infinitely better now than we'd ever imagined they could be, back then, back when we spent our nights talking about dreams that were lost and hopes we didn't dare to have.
And yesterday, my very very dear friend did what I knew she someday would, all those years ago, back when we couldn't see the future for ourselves but always held onto the glimmer of it for each other: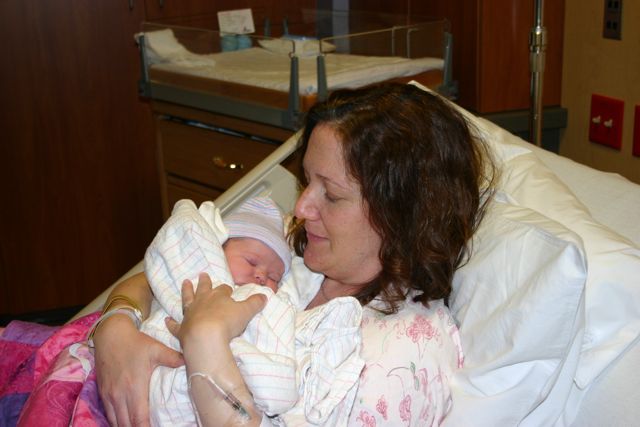 Welcome to the world, Sophia Ann. You're a very lucky little girl—your mama is one of the most amazing people I know. (Your dad and brothers and sister are pretty cool, too.) I'm going to come sniff your delicious baby head just as soon as I can, but until then, I know you're in excellent hands.
There is something about walking through the darkness with someone and then watching her light shine so brightly you can't ever imagine anything could have ever dimmed it. I am a better, brighter person for having Kira in my life. And I couldn't be more excited about Sophia than if she were my own. (Okay, let's be honest—I'm more excited, this way. I still get to sleep all night, so… yeah.)
I know birth is one of those "everyday miracles." But you'll have to excuse me if I hold this one just a little more dear.