The point will come when I stop showing you blurry pictures of little green bits and going on and on about how excited I am that things in my garden are growing. I'm pretty sure it will, anyway.
But it's not here yet. Especially because I went out the other morning and suddenly! There was a whole bunch more STUFF! Out of NOWHERE! Like MAGIC! And I feel the need to share, because this way we'll have a nice backdrop upon which to consider the subsequent bitching sure to come when I have beans coming out my ears and a freezer full of shredded zucchini, yes?
And also because I'm feeling more confident that the things I'm seeing are actual plants-on-purpose rather than weeds. Though I maintain that the grass-looking things from the other day are actually spinach. Now Otto has told me that we are expecting a freeze tomorrow night and I'm worried everything is going to die even if we cover it, so I have to take pictures before the Apocalypse. Or something.
Until I stop being obsessed with my garden, though, you get pictures.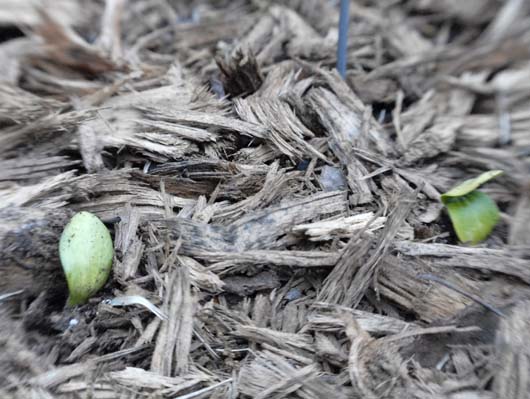 Dude! Zucchini! There's three of them, actually, but here's two of them for your viewing pleasure.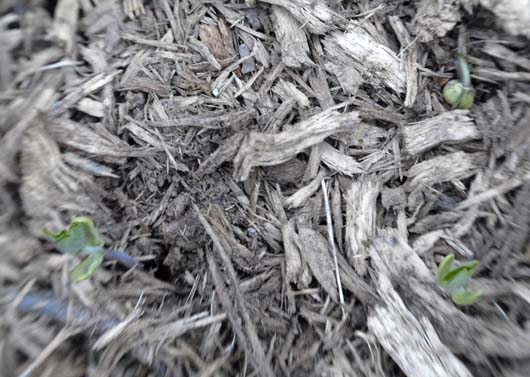 This is what happens when I try to get a picture of three plants, all together, with the Lensbaby. You get uber-sharp mulch and blurry plants. Oh well. But look—burgundy beans! Yay!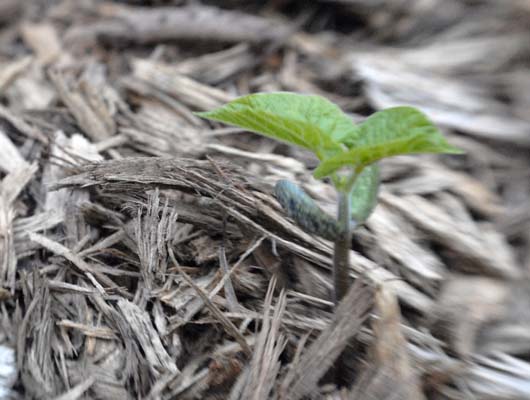 Right now the three burgundy bean plans are outrunning this lone, single wax bean plant. But given that all of them seemed to pop up out of nowhere overnight, I think it'll be okay. Why, the rest of the mulch is probably covering a MULTITUDE of wax bean sprouts, just about to break the surface. Related: If you like 3-bean salad, you might want to come visit this summer. I suspect we're going to have a lot of it.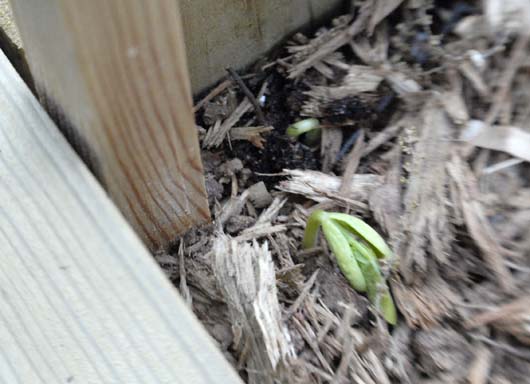 The tiny alien from a few days ago has proven to be a green bean plant, after all. And more are coming up in the other corners of the boxes, like here.
Monkey would like you to know that his cabbage is "looking very vigorous," too. (And in case you're wondering, the correct response to a declaration of his cabbage's vigor is, "Thank you for the update, Poindexter.")