I remember being told, long ago, that you fall in love with your spouse all over again when you see him falling in love with your child. This was, of course, in reference to my first baby, and I do remember the warm-n-fuzzy feelings of watching my ex unfold as a father, even though it often feels like that happened in a galaxy far, far away, approximately thirty billion light years ago.
No one ever told me that, somehow, that experience would be magnified a thousandfold to watch my husband embrace his role as stepfather. He had no part in creating these children; they are not from or of him; he never went through the process of deciding to bring another human into this world; and if not for me, he would never have entered parenthood (and that would've been okay with him).
For me, there's also the sort of double-bonus in watching my kids weave his presence into their landscape, effortlessly.
Last night we'd finished dinner, and Chickadee came around to my seat and began playing with my hair. It was still straight from the previous night's fancying, which rendered it irresistible to her. She flipped pieces of it this way and that, and I told her to go get a brush and "make me pretty." She was only too happy to oblige.
So Otto and I continued to chat, and she was hard at work on brushing and arranging my hair, when I got a phone call. A business call, actually, so I ended up getting up and retreating to my office for a bit.
When I came back, expecting to sit down and resume being pampered, I found that my position had been usurped.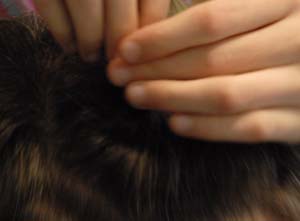 With me gone, Chickadee had done the logical thing—she'd moved on to playing with Otto's hair. And Otto was perfectly happy to sit and enjoy being groomed, but the thing that absolutely astounded me is that EVEN AFTER Chickadee ran to retrieve some ponytail holders, he continued sitting there, calmly, allowing her to do whatever she wanted.
So when she started putting his hair into little pigtails, he just let her.
Maybe this doesn't surprise YOU at all, but… I don't even know if I can explain.
It's not that Otto isn't compassionate and kind, because he is. And it's not that he's a chauvinist, because he isn't.
It's more that Otto believes in certain… rules and roles. And I'm POSITIVE that prior to acquiring a couple of short family members, the very idea of allowing anyone to put purple ponytail holders in his hair was enough to cause his gonads to retreat up into his abdominal cavity. (As was that sentence. You're soooooo welcome, honey!)
Chickadee was downright merry, bouncing around, checking her handiwork, and cackling with glee when she saw me approaching with the camera.
Otto wore a look of grim resignation, but I wasn't fooled. He was totally enjoying himself.
Not that he's planning on any purple ponytails as a fashion statement, or anything, but he's not dumb. He knows what it means when a hormonal pre-teen takes the time to make you look ridiculous.
(It means she totally thinks you're only half as annoying as her mother.)
Happy Love Thursday, everyone. Here's to the love that was never planned, but becomes a part of your style because you just can't help it.