I'm on a five-year plan towards actually growing enough food to cut down our grocery bill.
Two years ago, I bought a house plant. Actually, I sent Otto out to buy me a house plant, because I'm also on a five-year plan to delegate more often. "If I can keep this plant alive for a year," I told myself, "Next summer I'll actually try growing something edible."
The plant is still alive. (Though—it must be noted—somewhat sickly in pallor. I don't think it likes me.) Last year, I planted herbs, strawberries, tomatoes and some peppers on our deck. "If I can grow these things somewhat successfully," I told myself, "Next summer I'll expand my planting, and learn how to can." (The fact that I now have "learn how to can" as a life goal makes me feel about 85. But as I still have a freezer full of roasted jalapenos, it seems necessary.) The herbs went wild. We had jalapenos coming out of our ears. The banana peppers had some issues, but all in all—a successful season.
This weekend we went all Garden 2.0.
Otto, it should be noted, is never sexier than when he is talking about lumber. He did a bunch of research and decided that the way to go was a few raised bed boxes, and he then surfed around to figure out what kind of wood (apparently "conventional" pressure-treated wood leaches arsenic into the soil, which seems bad, and cedar is strong and a pest repellent, but costs a billion dollars, and there's some OTHER kind of pressure-treated wood that's okay, or something) and such, and I was in charge of deciding what to plant.
Oh, the possibilities! I knew we wanted herbs and tomatoes, again. And banana peppers (maybe I can actually GROW them, this year) and jalapenos, though probably fewer jalapeno plants than last year. Chickadee wants cucumbers and Monkey wants spinach. Everyone wants beans. Okay, that would be a start.
Oh. AND: We've been talking about putting in blueberries ever since we moved into this house. Fine; we'd take care of that, as well, although we probably won't get berries this year.
Off to the nursery on Saturday! Wow, kinda crowded. No matter. Let's go find the veggies. Oh, look—they carry organic plants. Yes, let's buy some of those! Well. Hrm. These are really quite a bit more expensive. Perhaps we'll just buy a few. Like, these California Wonder Peppers! I mean, they appear to be regular bell peppers, but they have an excellent name. Great; into the cart they go. And let's get some tomatoes. And herbs. Oh my goodness, look at all these kinds of thyme! And basil. And sage. And tarragon. I can't decide! Otto, why are you dragging me away…?
We spent about $65 at the nursery. That included four blueberry plants—which should, theoretically, produce berries from next year until forever—though the amount we spent meant that I passed by several items of interest, like rhubarb. (I like rhubarb. Why is rhubarb so expensive?)
From there we went to Ye Olde Giant Big Box Hardware Store, where I made the mistake of letting the children loose in front of the seed display. Seeds are inexpensive, but by the time we were done there, we had packets for zucchini, yellow squash, green beans, wax beans, burgundy beans, cucumber, spinach, and midget watermelons. Then we rounded up the lumber (sexy!) for the boxes. $55 later we were on our way.
The rest of Saturday was spent tilling the land. Or, Otto spent time putting the boxes together, while I went and dug up some sort of mutant fern weeds that grow to ten feet tall by our fence. After I'd cleared them out, Chickadee helped me plant the blueberries and Monkey watered them. (With water from our rain barrel! And then we all smoked some hemp together! Or not.)
On Sunday afternoon we set to work again. The first thing I did was check on the plants we'd purchased, and I made a very interesting discovery. I now know why the organic plants cost so much more—it's to cover the expense of ALL THE BUGS THEY COME COVERED WITH.
Ahem.
My California Wonder Peppers had apparently spent their overnight on our deck spontaneously generating a flock of aphids. So I got to start out MY afternoon of communing with nature by carefully swabbing a couple of plants with an alcohol-drench Q-tip, and removing three hundred bugs. AIN'T NATURE AWESOME?
We finished building the boxes and then it was time to break up the earth under them and get ready to add soil and compost. Otto headed back to Ye Olde Giant Big Box Hardware Store, and returned with a truckload of soil and other miscellaneous things, to the tune of about $70. We filled the boxes with a mixture of overturned earth, jungle mix soil from the store, and compost from our very own compost pile (everyone smoke some more hemp!). The kids and I went to work on the first box, setting the tomatoes, basil, and a variety of peppers. Once that one was done, I went out to our wood chip pile (don't you have a wood chip pile?) and began filling a bucket with chips to mulch the top of the box. The shovel was proving sort of slow, so I started grabbing handfuls, instead.
Until I put my hand into the part of the wood chip pile which has apparently been turned into a fire ant nest. Whoops! (I screamed REALLY LOUD, but entirely due to the shock of withdrawing an ant-swarmed hand rather than due to pain. Incredibly, I only ended up with two small bites.) I stuck to the shovel, after that.
For the second box—the one that got only a few plants, and mostly seeds—I tried to remember everything I'd crammed my brain with about intensive gardening (a fancy way of saying "planting stuff closer together than you really should, to maximize growth in a small area"), and we began sinking seeds. I already can barely remember what we planted where or how thin various plants need to be plucked down to, so THAT's going to be an adventure. Heh.
Once that one was done, we planted the watermelons in separate containers, and then I went back up to the deck to plant the herbs.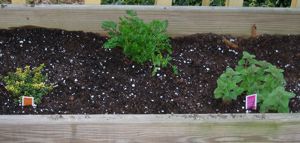 I was so busy comparing tomato varieties and keeping the kids from picking forty varieties of seeds, I really didn't buy enough varieties of herbs. I may have to go back and buy some more. But here you see some thyme, parsley and greek oregano. (Not pictured: Last year's rosemary, which is about ready to go into the ground and be its own bush, or last year's CHOCOLATE MIIIIIIIIINT which yes, Virginia, I am still growing in the container and is easy enough to pinch back before it takes over the world.) I'm thinking of going back for some tarragon. Why? I have no idea. I never cook with tarragon. But I think I like it.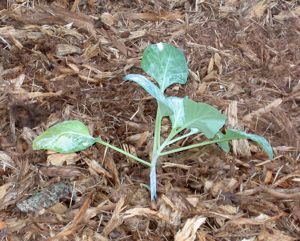 Also, I forgot to mention that now that we live in 4-H country, every third grader gets sent home with a cabbage plant about this time of the year. Yes, really. (It could be worse. They could send each of 'em home with a ferret.) So we made Monkey his very own little plot square next to the boxes. The cabbage is his responsibility, and after it grows really large we're supposed to take a picture of him with it and send it in to our local 4-H chapter. After that, I'm planning to sell him for meat. (Monkey, not the cabbage. This is not a compulsory part of the project, but I want to see the look on his face after we snap the photo. "Great job growing that cabbage, son! Now we're going to sell you for meat now that we don't need anyone to water this plant anymore.")
The boxes themselves look pretty impressive, if I do say so myself.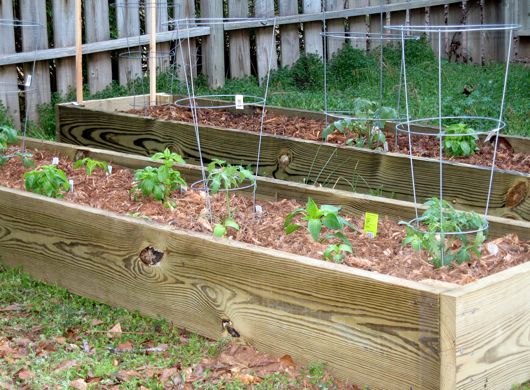 Otto did a great job with them. And if they're actually overflowing with produce this summer, well, so much the better!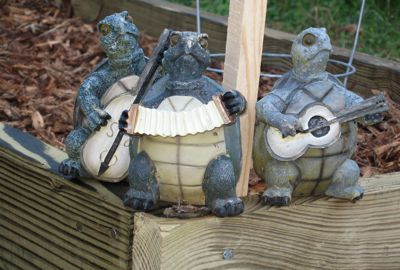 So let's recap: We've now spent nearly $200 on the garden. That's BEFORE I spend any money on canning supplies, too. What was I smoking when I thought this was going to save money…? (Oh, right. Hemp. Damn hemp!)
Oh, well. At least the kids had fun helping, and there is nothing finer than a tomato straight from the vine. Or knowing that even if you don't grow a single thing, there's a turtle band at the ready to serenade your grumpiness away. Too bad they're not edible.