Whoops! Was yesterday Love Thursday and I missed it? It's not because I was without love, I assure you. I was OVERFLOWING with love, yesterday! Inbetween the curse words!
Um. Sometimes I curse when I'm especially overflowing with love. Or especially overflowing with cake batter. Yes.
A few days back Otto told me he was having a colleague come to town for the week, and then he laid out their schedule of events and asked if it would be okay with me if we had him come to dinner on Thursday night. And we're having kind of a busy week, here, so I may have looked… less than thrilled… and he hurried on to say that he would TAKE CARE OF EVERYTHING. So I said "Sure! Let's have him over to dinner!"
And then I lost my mind.
I don't know why this is (possibly because I'm a BIG GIANT CONTROL FREAK), but when Otto tells me that he'll "take care of everything" I thank him and then proceed to do everything myself before he has a chance to. Sometimes, inbetween these two events, I will ridicule his plans.
(FOR THE RECORD, his big plan for last night was to… grill some kielbasa. And a couple of green peppers. That was his entire plan. It like he was DARING me to try not to make fun of him!)
Anyway, like I said, it was kind of a busy week, and so before I knew it, it was Thursday morning, we now had two people coming for dinner, neither of us had been to the grocery store, I had a ton of work to do, and the house was filthy.
So naturally I decided to make a cake. You know, in my spare time.
Look; a good homemade cake smooths over a multitude of sins. I was just covering all my bases.
So, the other thing you need to know is that earlier this week Chickadee heard us talking about this and asked Otto who was coming to dinner. "It's your old friend John Doe!" he told her, much to her confusion. "You know, John Doe!" And this spawned a plethora of jokes, all week long, from all of us. Before I knew it we were talking about when Chickadee and "her friend John Doe" (always all four words) went to college together, back in the 80s! And how Chickadee and "her friend John Doe" used to hang out together ALL THE TIME! And yesterday morning Chickadee told me, before she left for school, "Tonight I'm having dinner with MY FRIEND JOHN DOE."
I don't know why, but it was sort of hilarious. Possibly because Chickadee is painfully shy around new people, and we were anticipating her complete refusal to even acknowledge John's presence.
So. I went grocery shopping. I scraped the top layer of grime off the house. I put chicken in marinade and I chopped vegetables and measured rice. And I baked a cake. This cake, in fact. Note that this is a Paula Deen recipe, and as such, it begins with two sticks of butter, a glob of shortening, five eggs, and a trip to the Emergency Room for an angioplasty.
(Just covering the bases, people.)
If I had taken the time to read all of the recipe reviews, I would've seen that multiple people complained about the batter overrunning the pan. I read the reviews when the cake was about halfway baked, and ran back to the kitchen to check. So far, so good. I left the oven light on and checked it periodically and so of course it wasn't until I was hip-deep in some work that I went, "What's that smell?"
Why, it was my cake overrunning the pan and dripping onto the bottom of the oven and burning! Awesome!
A bit of fancy footwork with a spatula and I was able to clean up the oven, scrape off the side of the pan, and still get the cake baked. But then I had to take it out of the oven right before I went to pick up the kids, and I wasn't entirely certain it was actually, you know, COOKED, so I said a small prayer and went on my way. Later on—after the afternoon taxi shuffle of kids and activities—I unmolded the cake and it looked okay, so I went about my business.
[I also baked a cornbread, to get the burnt chocolate cake smell out of the kitchen. I am ALWAYS THINKING.]
By the time Chickadee's friend John Doe and our other guest arrived, it was getting late (later than when we normally have dinner on school nights, anyway) and the kids were antsy. John Doe turned out to be a VERY tall man with a bushy beard, and I prepared for Chickadee to avoid him like the plague.
But a wonderful thing happened. John Doe is totally delightful, and he had both kids wrapped around his little finger within five minutes of entering our house. Chickadee rearranged the seating at the table so that she could sit next to him. And she told him with a sly smile that she remembered when they'd gone to college together. They had a long conversation about his invisible dog. He was, indeed, Chickadee's friend John Doe.
He was also everyone else's friend John Doe. Dinner was a very jolly affair.
Alas, by the time we finished up, it was really getting late, and I made the decision to send the kids to bed before dessert. To stave off any meltdowns, I promised to pack cake in the kids' lunches, today. Monkey was not pleased with this, and demanded that I allow him to have cake for BREAKFAST. I thought about it and agreed.
He ran upstairs to get ready for bed before I changed my mind.
The kids said goodnight to our guests and both of them hugged their friend John Doe before heading to bed, and this morning Monkey had cake for breakfast and Chickadee took some in her lunch. And neither of them could stop talking about their friend John Doe.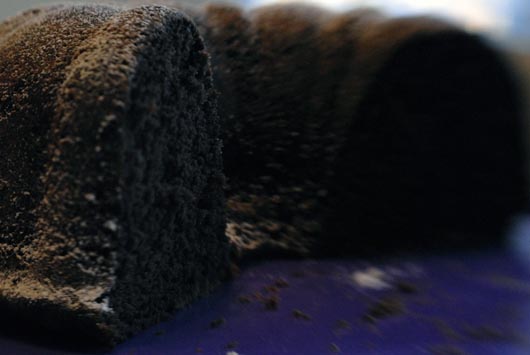 John Doe: You're welcome in our house any time. You are totally worth a dirty oven and an angioplasty.